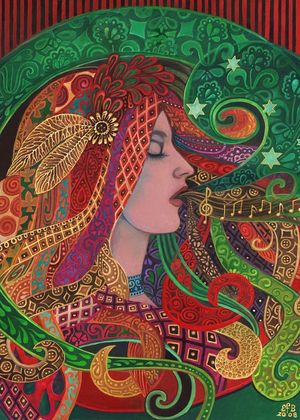 DI RÊYA JIYANA XERAB Û NEXWEŞIK DE BAŞ Û XWEŞIK NAYÊ JÎYÎN
ABDULLAH ÖCALAN
Girêdana min bi rêgeza "Wê jiyan an azad be, an jî qet nebe"  re, ji zayînê heya mirinê an jî heya dawiyê be. Ev bi heskirin û rêzdarî, bi estetîk û ehlaqê azad pêkane. Ya rast ewe ku ez di navenda vê de jinê bicih dikim.  Min tu carî ji Jina ku bi çalekiya azadiyê ava dibe û jiyana bi dostanî û xweşikî ku li dora wê pêşdikeve guman nekir. Ez neketim kompleksan (girêcan). Li şûna civaka desthilatiya zilam û ya olî min bi zêdehî wate da feraseta mezin ya wekhevîbûna jinê, aliyê wê yê xwedavendîtî û baweriyê. Ji bo ev jî pêk were, min karkeriya azadiya jin ya pir mezin û evîndariya wê meşand. Min bi çavê milkbûnê li tu jinê û her wiha li tu mirovan mêze nekir û min neda mêzekirin. Di vê rêya min de bêyî ku ez tawîzan ji rastiya wê ya mezin ya aliyê ehlaqî, estetîk bidim, heya dawiyê pêşde çûyîn encama avabûna qereqtera min ya xwezayî ye. Di rêya jiyana şaş de rast nayê jiyankirin. Di rêya jiyana nexweşik û kirêt de jî baş û xweşik nayê jîyîn. Bi navê jiyanê ji qrîz û şeran jî hîn zêdetir, karesat hene. Ev felaket qutbûnên bingehîn ji famkirina heqîqetê re didin çêkirin. Ev jî girêdana bi rêyên jiyana çêkirî an jî sûnî yên weke qutuyên jiyanê bi awayeke kolebûn girêdanin. Ev rê ji zûde hatine xêzkirin, rêyên jiyana şaş û xerabin. Ji bo jiyan bikeve rêya rast û were ser rastiyê û bi awayeke tendirustî be, tevî şoreşê bi her awayî bi gotin û çalekiyên civakî tekoşîn tê kirin. Ji bo vê jî etîk, estetîk, rêbazên zanistî, zîhniyet û vîn tê avakirin.
Pirsgirêkên civakî pirsgirêkên hevbeşin, ango bi hevdûre girêdayîne. Vaye ji bo vê min etîk û estetîk pêşniyar kir. Jin weke hêmana bingehîn an jî ASAL ya ehlaqî û polîtîk ya civakê di ronahiya azadî, wekhevî, demokratîkbûnê de rista jiyanî di aliyê etîk, estetîk de dileyîze. Zanista etîk, estetîk perçeyeke zanista jinan ya ku nayê parçekirinê ye. Jiber berpirsiyariya giran ya jiyana jine, wê di hemû mijarên etîk-estetîk de hem di aliyê fikir de hem jî di aliyê pêkanînê de vekirin û pêşketinên mezin pêk bîne. Ev rewş jî bê nîqaşe. Girêdana jinê bi jiyanê re li gor ya zilam hîn berfirehtire. Pêşketîbûyîna zekaya hestiyar ya jinê bi vê re girêdayî ye. Her wiha weke xweşikbûna jiyanê estetîk ji bo jinê mijareke hebûnê ye.
Xweşikbûn bûyereke civakîye an jî sosyolojîke. Ya herî nexweşik jî dikare xweşik bibe. Ne raste ku ev mesele hemû dakeve xweşikbûna bedenê. Yên ku hewil didin tenê bedenê xweşik bikin, ji bo yên ku bi estetîkê re eleqedar dibin, kozmetîkan an jî amûrên xemlê bikar tînin em di şopînin. Em dibînin ku kesên bi navê xweşikbûnê herî lihevhatîne di nava sê mehan de vediguherîn halê meymûnan. Di şexsê jinê de xweşikbûna ku heye, min weke estetîk eşkere kir. Li ser meseleya etîkê jî hûnê bibêjin "EZ EZIM". Hûnê bibin yên xwe.
Weke teoriya ehlaqê etîk an jî ehlaqiyat, wek pirsgirêka bingehîn ya felsefê di ber erka lêkolîna ehlaqê û jinûve hebûnê de berpirsiyare. Ji gîhandina vê rista bingehîn de berpirsiyare. Jiber ehlaq gihaştiye asta herî bi şewat. Ehlaqê ku di nava civakê de pêwîste cardin li gor rêgezên jiyanê were pêşxistin û dakeve navenda jiyanê, weke pirsgirêkeke civakî ya bingehîn, heya dawiyê wê cihê xwe û girîngiya xwe bi parêze.
Di aliyê etîk de jî berpirsiyariya jinê berfirehtire. Di aliyê perwerdeya însan ya baş û xerab de, di zanebûna girîngiya jiyan û aştiyê de, tirsnakî û xerabiya şer de, di nirxandin, eşkerekirin û biryarkirina pîvanên dad û mafdariyê de, bi taybet ji aliyê ehlaq û politikaya civakî de rast nêzîkbûn û berpirsiyar tevgerîn pêwîstiya xwezaya jinê ye. Lê ez behsa wê jina ku bûye sî û pêlîstoka zilam nakim. Ev jina mijara gotinê ya ku azadî, wekhevî û demokratîkbûn di cewherde daye rûnişkandinê ye.
Têkiliya etîk-estetîkê bi têkiliya gûl-sitirî jî em dikarin binirxînin. Heger gûl estetîk be, sitirî jî weke etîka wê, ehlaqê wê ye. Bi qasî ku estetîkek bê etîk nabe, etîkek bêyî estetîk jî nabe mijara gotinê.  Heger bibe wê weke wan sosretiyên etîk estetîka ku tu nirxa wê tine ya modernîte  derdixe pêş be.  Divê etîk û estetîk di aliyê civakî de were bidestgirtin.
Di wateya civakî de muqabila baş, xweşik, rast û ehlaqî çiye, tê çi wateyê? Di qadên  siyasî, civakî, aborî û yên weke van qadan de ez behsa etîk, estetîka li ser bingeha rastiya Kurd ya derxistina holê, bi encamkirina  wê dikim. Ango ez behsa wê estetîka di wateya artîstîk ku ji aliyê modernîteyê ve bişêwe bûye nakim. Ya ku ez behs dikim ne ev feraseta estetîkê ye.
Her ku eşkerekirina heqîqetên civakî di aliyê zanistî, felsefî, estetîk de tê pêşxistin derfetên jiyana baş, rast û xweşik jî derdikevin holê. Jiyana civakî ya ku ne etîk, adil û wekhev, polîtîk be jiyana ku divê neyê jîyînê ye. Bi giştî şaristanî bi taybetî modernîteya kapîtalîst bi yekdestdariyên bîrdozî û dextên ku ava dike jiyana bi koletî ku tevlî hemû şêweyên derew, xapandinê, axaftinên vala û ezezîbûnê bûye li ser civakan dide pêşxistin, dide ferz kirin û pejirandin. Bûyerên ku bi navê pirsgirêkên civakî tên gotin jî wiha derdikevin holê.
Bi qasî ku tê zanîn civaka însan di nava mahlûqatan de hebûna yekane ya xwedî wîjdanê herî pêşketiye. Di kevneşopiya pîroz de ev xusûs bi şêweya "eşref-î maxlûqat" tê vegotin. Xwezaya civakî ya însan vê taybetmendiya xwe bi çalakî an jî tevgerên ol, felsefe, hûner û zanistî pêk tîne.
Wîjdan bixwe derbasbûyîna dûalîteya qur-berxikê destnîşan dike. Ev cihê însan di nava civakê de bêhempaye. Di çareseriya pirsgirêkên civakî de wîjdan çeka herî mezine. Ya ku hebûna însan, wîjdanê însan gengaz dike hebûna însan ya civakî ye. Wîjdanê civakî ye. Weke ku kesa bê civak nayê fikirandin civaka bê wîjdan jî nayê fikirandin.
Veqetandina ehlaqê Başî-Xerabiyê di bingeh de bi civaknasiya şaristaniyê ve girêdayî ye. Ji aliyekê ve mesafeya di navbera komên berjewendîperest de eşkere dike. Bi awayê giştî jî ferqa "civaka baş-xerab" destnîşan dike. Cewherê wê civakîbûne. Girêdana bi civakê re ehlaqê baş destnîşan dike. Ji nirxên civakî dûrketin û dijberî jî ehlaqê xerab destnîşan dike.
Sazbûna civakî ji destpêkê ve xwedî qerekterê ehlaqî ye. Ango birêzdarî ji sazkirina rêzikên civakê re bipîrozî tê mêzandin. Bi awayê dilxwazî bi van pîvanan re girêdan ava dibe.  Qanûna bingehîn ya destpêkê ji bo civakê rêzikên ehlaqî ne. Di cewherê civakê de ehlaq heye. Civaka ku bingehê xwe yê ehlaqî wenda bike, ji belavbûnê rizgar nabe. Rêzikên civakî jî di cewherê xwe de girêdana bi nasnameya civakî, hebûna xwedayî ya civakî, zimanê civakî û weke ku yek parçeyê bedenê bin, bi hemû endamên civakî re girêdayî ye. Bi pêşbiniya ku pêwîst bike ji bo endamên civakî mirinê bide ber çavan nêz dibe. Derveyî mayîna civakê an jî kes,  avêtina derveyî civakê bi mirinê re hemwateye.
Li cîhana ku modernîteya kapîtalîst ava kiriye mêze bikin; jiyan bi her awayî hatiye qirêjkirin, însan ji însanbûyînê hatiye derxistin. Jin sexteye, zilam sexteye, dîrok û ol, pirtûkên pîroz bûne amûrên derewên îktîdarê. Di serî de ehlaq, wîjdan û dad, tu nirxên civakî ku nehatine desteserkirin nemane. Kesê bibêje ez însanim di zemîneke îxaneta wiha de ma dikare nefesê bigire? Ji bo kesê ku di bîra bêbinî û tarî de, derketina ji bîrê kendira ku hatiye dirêjkirinê çi be, ji bo min jî ewe. Çawa ku însanê di binê bîrê de bi rizgariya can xwe bi vê kendirê ve bi hişkayî yek dike, divê em jî xwe bi rastîyê re wiha yek bikin. Ya ku em dibêjin hêvî jî eve, rastiya ku em dibêjin ketina ferqa xwe, zanebûn û hêza berbi ronahîbûna pêşerojan çûyîn jî eve. Vîn û çalekiya vê derxistina holê ye.
Piraniya wan li dilşadî, îdareya aborî, jiyaneke rehet digerin. Tenê bi xweşikiyên cîhanê re hûn nikarin rehet bibin. Ruhên qirêj ne rihetin. Ji derfetên serdemê derfet digirin, lê belê ne rehetin. Ruhekî ku vê rehetiyê bimije tine ye. Ji ber ku pirsgirêkên xwe yên wîjdanî çareser nekirine. Yên gelek bi îddîa tenê dikarin hinek sir an jî serbenan bibînin. Di cîhana xwe ya zîhnî û ruhî de hûn pirsgirêkên cîddî jiyan dikin. Pêwîstiya we ji şoreşa mezin ya wîjdanî, ehlaqî û çandî re heye. Ji bo hûn êş û heskirinan li ser bingehekî rast fambikin pêwîstiya we ji şoreşa mezin ya wîjdanê re heye. Di vê erdnîgariyê de derbasbûyîna ji çanda xwînê berbi çanda heskirinê wê çawa bibe? Pirsgirêkên wîjdanî yên di encama cûdaxwaziyan, eşîr, qebîle û mîllîyetperestiyê derdikeve û weke kêfxweşî tên dîtin wê çawa werin derbaskirin? Di Fîlîstînê de jî ya ku jiyan dibe eve. Bi Ronesansa Rojhilata Navîn jî me hewil da em vê derbas bikin. Di çanda Mezopotamya de ev gengaze ku were derbaskirin. Yên berê behsa êş û çîle kişandina çil salan dikin. Di jiyana min de 40-50 sal salên êş-çîle kişandinê ne. Pir zehmete ku hûn vê hîs bikin. Ev êş û jan dide min. Heger di dil û wîjdanê însan de şoreş pêk neyê wê bihêz nebe. Bêyî ku hûn şoreşa wîjdanî rast fambikin hûn nikarin politikaya bihêz bikin.
Ji bo bûyîna însanê azad divê hertim pêşketinên bê navber bên kirin. Şoreşgeriya kêliyê kirin gelek girînge. Di vê wateyê de yê ku xwe derbas neke nikare ciwan bibe. Yê ku na afirîne, yê ku ji afirandina hilberîna dûr dimîne, yê ku pêşketina çênake, mejiyên wan dibin kulav (keçe), her kû diçe di cemide û bi demê re berbi rizînê ve diçe. Yanî yên ku pêşnakevin zû îxtîyar dibin. Ez bi plan jiyan dikim. Her deqîqeya xwe, her saniyeya xwe dinirxînim. 24 saetan mejiya xwe di asta xebitînê de dihêlim. Lê hûn di 24 saetan de carkê difikirin. Yanî hûn tesfiya zeman jiyan dikin. Ji ber ku hûn nizanin zemanê şoreşgerî zêde bikin, hûn pêş nakevin. Navê vê jî kal-pîr bûyîne.
Divê însan hertim xwe ji jiyanê re amade bike. Di wekxwe mayînê de nayê jiyîn. Min wiha jiyan nekir. Bi vê şêweyê nayê jiyîn. Pîrbûn û ciwantî jî bûyereke sosyolojîke. Dibe ku di şanzdeh saliya xwe de mirov kal-pîr bibe, dibe ku mirov di heftê saliya xwe de ciwan bimîne. Em di jiyanê de dibînin ku yên hertim di nava veguhertinê de ne ciwan dimînin, ciwan dijîn. Hertim nûbûn an jî nû mayîn jî, dibin her şert û merci de bi misogerî bi rastiyan re girêdayî mayîn, li gor vê tevgerîn û şert û mercên destwerdanê avakirinê pêkane. Bi temen ez di pêşiya we hemûyan de me, lê di aliyê sosyolojîk de ez ji we hemûyan ciwantirim. Bi rastî jî ez xwe gelek zindî û dinamik hîs dikim. Ji ber ku ez her daîm bi armanc û hedef jiyan dikim. Hemû hesabên min berbi civaka wekhev, azad û parveker ve tê. Di her wateyê de bi berhevên çawanî (nitel) û teqînên çendaneyî (nicel) an jî bi kêliyên guhertin û veguhertinê difikirim û di meşim. Weke min eşkere kir ciwantî û îxtîyarî bi kinbûn û dirêjbûna zemanê fîzîkî re ne girêdayî ye. Yên ku li hemberî yekdestên terzê jiyana kapîtalîst derfetên jiyana azad nikarin pêşbixin, yên li hember êrîşên îdeolojîk, yên ji sîstemên desthilatdar re vekirîbin zû dirizin û fikrên wan zû îxtîyar dibin.
Bi giştî nîqaşên modernîte, bi taybet jî nîqaşên modernîteya demokratîk dikarin têgihiştinên me yên heqîqetê ji nû ve pêşbixin. Em dikarin ji jiyana şaş, xerab, kirêt wê jiyana xwe ya ku berhewa dibe rizgar bikin û ber bi rêyên jiyana rast, xweşik û baş de biçin. Ji bo vê jî bi şoreşa zîhnî ya modernîteya demokratîk re girêdayî bi rêya felsefe, hûner û zanistê em dikarin têgihiştina xwe ya heqîqetê bihêz, baş rast bikin û jiyaneke xweşik pêş bixin.
Sê rêgezên Zerdûşt hene; rast bifikire, xweşik bi axive, sexlem bike. Rast fikirîn, berbi zanistê ve, ya dûyemîn berbi hûnerê ve, ya sêyemîn berbi ehlaqê ve bal dikişîne. Bi rojanekirina van hersê rêgezan gîhandina ehlaqê xweşik pêk tê.
PÊŞKETINA ZANISTA JI ETÎKÊ BÊPAR, BINGEHA NEXWEŞIYÊN HEMDEME
Sedema herî bingehîn ya zanist û teknîka roja me ya îro ku bi dext û dagiriyê xwe saz kiriye û gihaştiye asta herî bilind, bê gûman ji rêbazên êşkence ziyadetir, di esasê xwe de bi rêbazên çêkirina zanistê û bi karanîna wê re girêdayî ye. Bi vebirî nûnerên zanistî û zanistê ji vê rewşê berpirsiyarin. Ev ji Rahîbên Sûmer, dewleta Sûmeran û şaristaniya wan zêdetir berpirsiyar girtin xwedî girîngiyê ye. Di serdema me de di serî de herdû şerên cîhanê û di tevahiya şeran de, berpirsiyariya nûnerên zanistê, terzê çêkirina zanistê di şer, xizanî, qirêja der û dor, newekheviya navbera cînsan, tewazina tirsnak ya nûkleerî, zêdebûna hejmara mirovan, harbûna teknolojiyê û di mijarên weke van de ji polîtîkavan û fermandarên leşkerî ne kêmtir, zêdetire. Rahîbên zanistê rêya vê pêşveçûnê vekirine. Berbi roja me ve zanîngeh, ji perestgehên serdema navîn û Sûmeran zêdetir di wateya girtîbûn û ezezîbûnêde li hemberî serdemê ketine nava bêpersiyariya mezin. Bi zêdehî serdemên destpêkê û navîn sûcdarkirin û xwe paqijkirin, hem jî ev bi şûştina ava "rêbazên zanistî", dibe ku ne xwedî nirxa zêde paqijî û tahirbûnê ne. Ev ne werimandina vê mijarê ye. Hemû beramberkirinên dîrokî dide eşkere kirin ku sedsala 20. di însan de ji hemû sedsalên din zêdetir îmha, êşkence, feqîrî, nexweşî pêşxistiye. Bi vê ev tê ispatkirin. Bi rastî jî heger li hember dîrok û civakê berpirsiyarî tê dîtin divê paradîgmayên serdema me, rêbazên ku pê radibin, berhemên ku radixin holê, tarzê zanistê û bi taybet jî pêkanîna wê di rexnedayîneke bingehîn re divê werin derbaskirin. Heya ku ev erk bi serkeftî neyê bicihanîn, ji xerabî û sêhra tu keşe û çîna sêhêrbazan û rêyên xerabiyê ku ji vê re hatine vekirinê, ji darazî û tawanbariyan nikarin rizgar bibin.
Ji bo vê di serî de ya pêwîst ku divê were kirin, rastkirina nêzîkatiya dîrokî, civakî û bi misogerî girêdana waneyên bingehîn, encamên etîk, ehlaqîye. Derveyî vê tarikatek ji rêderketî û bisêhêr ya ku ji venêrînê derketiye, bi qasî çernobîl û hîroşîma zêdetir ne hilweşîner û xwedî encamên bi êşbe jî, zilamê sêhêrbaz û olî jî ji zilamê zanistê zêde ne tehlûketire.
Ji feqîtîya (softa) zanistê gelek gûmanên min hene. Bi hêviya ku hûn ji min şaş tênegihêjin ez eşkere bikim ku, ûslûbê min hinekî pêxemberiye, hinekî jî zanayane ye. Ez dixwazim vê bibêjim.  Rastiya diyalektîk ya mitolojik, felsefî, olî, zanistî, estetîk-ehlaqê di bihevre nirxandina van hîn zêde însanî dibînim. Zanista roja me ya îro bi radeyek tirsnak bi term re eleqedare, her wiha qadavrayî ye. Di aliyê ehlaqî de jî lêkolîneke bi rêbaza bêsînor perçekirinê jî bi tehlûke dibînim. Bi ya min be kevneşopiya sazbûna însan heya dawiyê divê diyarker be. Ji ber vê sedemê em nikarin vegotinên totemîk, mitolojik biçûk bibînin. Em biçûk bibînin wê demê emê însanê ku ji kokê xwe hatiye qutkirin bi pejirînin. Ev bi tehlûke ye. Çîroka mirovahiyê ya pirtûkên pîroz –kur-an jî di navde- bi rehetî ji aliyê zanista îro ve dikare were vala derxistin an jî pûçkirin. Lê belê aliyên wê ku divê tu carî bêrêzî neyê kirin, di asta îmanê de nirxdayina kevneşopiyên wê ye. Ez ji kevneşopiyê vê famdikim. Ji gerdûna ku heya însanbûnê pêktê û ji wir jî her tişta ku heya roja me ya îro jiyan bûye, di heman demê de navbera kaosêye, ango diyardeya azadbûn, afirêneriyê ye bawer dikim. Yanî em dikarin kevneşopiyê biguherin. Cewhera xwedayîbûnê jî eve. Ev xwedayîbûn eşkere ye ku însanê afirêner e. Di wateya civakî de ez vê peyvê bikar tînim.
Ez dixwazim vê bibêjim: di pey hemû pêşketinên ku ji êş û texrîbatan rê dide vekirinde plansazî û bernameyên li ser masa zilamên zanistê yên ku ji nirxên moral ji demek dirêj ve hatin qutkirin û bêyî lêpirsîna ji bo çi xizmet dikin heye. Di pey vê de jî feraseta civak û dîrokî ya bi şaşîtî, bêpîvanî bê dadî heye. Bêyî ku zanist van pirsgirêkan çareser bike, ji van tawanbariyên giran û rexneyan rizgar nabe. Ji ber ku rastiya heyî mafdariya rexneyan bi xwe ye.
Zanist û teknîk di pêşiya ehlaq deye, di rastiya xwe de di zîhniyetê de bingeha pêşketinên herî bu tehlûke ava dike. Zanist, siyaset û aboriya ku gûmana ehlaqî ranagire bi îttîfaqa bê rêzik; rê li ber şerê cîhanê yekemin û duyemîn vekiriye. Her wiha rê li ber şerên bê wate yên herêmê, bikaranîna bombeya atomê, tewazina dehşeta nükleer, derdoreke ku êdî dinavde nayê jiyankirin, zêdebûna hejmara mirovan ya bi tehlûke ku her yek ji van pirsgirêkan bi serê xwe mirovan dikare bibe ber hevrazan vekiriye. Ev rewş wê li ku derê raweste hîn ne diyare. Bê gûman ehlaqê bi çavkaniya mitolojik û olî rê li ber kîjan rewşên xeter vekiriye tê zanîn. Eşkereye ku ehlaq bi tena serê xwe ne hêze, di asta tevgera civakî ya giştî de rist dilîze. Lê cardin vala hiştina vê qadê kêmahiya herî mezin ya serdema zanistê ye.  Bi vebirî pêwîstiya etîka zanistê heye. Pêşketina zanista ji etîkê bêpar bingeha nexweşiyên hemdeme. Lewaziya ol ev pêvajo hîn xetertir kiriye. Bi îtînayî divê zanist ehlaqê xwe, hetta weke hêza otorîteya herî bilind ya jordewletî Rêxistina Ehlaqê Zanistî  saz bike, bixebitîne.  Rastiya civaka sîfîl weke mukûrhatina vê rastiyêye û heya radeya dawiyê lewaze. Bi qasî ku pêwîstiya pêşxistina civaka sîfîl neçariye, avakirina ehlaqê zanistê û gîhandina asta hêza pêkanînê her wiha otorîteyê jî ji bo serdema me dibe saziyek ku ji NY girîngtir were nirxandinê ye. Mirovbûn û enternasyonalîzma rastî jî bi hêza saziyên wiha wate dibînin.
Halê heyî yên ku dewlet û sazî-dezgehên piştgiriya xwe ji wan digirin yên aborî û siyasî bi mirovbûnê berbi hevrazan ve dibin. Ev jî rewşeke jênevegere. Nêzîkatiyên roja me yên bi hesabên siyasî-aborî dagirtî, fikarên etîk û ehlaqî gîhandine xala ku hemû fikr werin piştçavkirin ê. Siyaset hunera pêşbînî û kûrbûnê ye. Hostayî dixwaze. Ez dibêjim heger hûn nikarin hostayîyê raber bikin qet nekevin nava vê xebatê. Lê hûn dikevin nav. Wê demê hûnê baldariyeke muezzam destnîşan bikin. Dema ku mesele ji etîk-estetîkê vedibe û berbi civakbûnê ve dirêj dibe, weke hûn jî bipejirînin bêyî ku têkiliya wê bi siyasetê re saz bibe, berdewamkirina vê rêyê hema weke ku pêkane. Etîk û estetîk bi zanebûna siyasî re pêwendîdare; li ser bingeha ehlaqê siyaset kirinê xweşikî, başî, rastî, aliyê azadiyê derxistina holê ye. Ev weke ku hûn dihesibînin jiberxwede û bi hesanî pêş nakeve. Mesela gelek ji we wiha dizanin ku siyasetê dikin. Lê belê hîn we ji xwe ne pirsiye ku hûn kurdekî çiqasî rastî ne! Kesê ku rastiya Kurd nizanibe, tênegihêje, jiyan neke, çiqasî dikare siyasetê bike? Her çiqasî ev hêsan be jî ev pirsên jiyanî ne. Yên ku dîroka kurd, civaknasiya kurd û rastiya kurd ya rojane nizanibin siyasetê bikin, yên di vê îdîayê de bin, encax dibin wek van lîstokvanên neçar yên ser dika dîrokê. Ev di aliyekî de neçarî û neçareseriya we bi xwe ye. Hûnê vê bizanibin. Yên ku siyasetê kêlî bi kêlî jiyan dikin, her roj bi sedan pirsa ji xwe dikin û bi sedan bersivan pêş dixin. Yek saniyeyê jî li xwe nafikirin, zemanê xwe tu carî vala derbas nakin.
Braidwood, dibêje "di tu aliyê cîhanê de bi qasî qûntarên çiyayê Zaxros-Torosan û Sîlsîleyên bi qews de jiyan ewqasî bi wate nebûye". Gelo kîjan hîssan ji vî însanê ku di çandekî gelek dûr de mezin bûye de ev peyv dane vegotin? Weke dîroknas û erdkolannasê ku şaristaniyan baş nas dike, çima jiyana herî bi wate di vê qada çandî de dibîne? Halbikî xwecihiyên li vir dijîn ji bo mûçeyekî herî kêm li ewrûpayê çil teqla davêjin û weke ku ji nexweşiya webayê birevin dixwazin ji van axan birevin. Weke ku tu pîroziyên wan û nirxên wan yên estetîkk nemane, weke ku êdî cardin ev nirx nayên bidest girtinê koçberiyê weke çarenûsê pêşwazî dikin.
Zanista civakî, felsefe jî wek pêvajoya xwe ya zayînê divê di roja îro de jî rista xwe bilîze. Li hember zanista biîktîdarbûyî vegera felsefê rêzika bingehîn ya civaka azad e. Demokrasiya derveyî piştgiriya felsefê weke ku di roja me ya îro de jî diyar dibe wê ji cewherê xwe vala bibe, di destê demagogan de bibe amûra rêvebirina rêbaza civakan. Ev rewş bi mînakên bê hejmar yên dîrokî û rojane xwe dide diyarkirin. Rêya pêşîgirtina vê weke kevneşopiya aliyeke etîk, aliyeke zanist ku du beşên ji hev qut nabin meşandina tekoşîna polîtîk e. Bi vê berpirsiyariyê em dikarin meşa ji pirsgirêkên pergalê berbi jiyana wekhevî û azadiyê, berbi cîhana wê ve pêşbixin.
Eşkereye ku ronakbîrîya serkeftî ya zîhnî bi qasî asta têgihiştina dîrokî ya cewherî, bidestgirtina asoya zanist û felsefa hemdem jî şertê yekem dihesibîne. Bêyî ku felsefe û zanista Rojava were pejirandin, hevdîtina bi dîrokê re û derfetê sazkirina senteza wê nabe. Ev kar ne karê wiha bi îslamgeriyê, bi Budaperestiyê were meşandinê ye. Di paraznameya min de di asta pêşnûme de jî be, pevçûneke ne bikorane li hember zîhniyeta Rojava heye. Dixebitim ku bi dirustî û cewherî bigihêjim êncamê. Ji bo min ne gengaze ku ez bi zîhniyeta Rojava têr bibim. Lewaziyên moralê yên pir mezin hene. Lê belê kûrbûna zanîna zanistî ya awerte heye. Aliyê ku herî zêde jê dihesidim kêrhateyên wan yên ku ev biserxistine ye. Ji ber vê rêzdarim. Tevî vê jî ez bawer dikim ku nexweşiyên gelek mezin û kêmasî ji vê qadê çavkaniyên xwe digirin.  Ez qanihim ku moral weke etîk ji keşeyê hemdem wêdetir ti hêjaya xwe tine ye. Ne bawerim ku van lewaziyên xwe bikaribin derbas bikin. Ev nêzîkatiya bê eman ya weke ku xweza û civakê dadiqurtîne bi tirsnakiye. Bi qasî zanînê divê nirxa etîk jî were afirandin. Bê etîk hiştina pergalê çawa di wîjdanên wande, di zîhnên wan yên ronahî de bicih bû? Kê, çi ew bêbandor hiştin? Dibe ku ji zûde desthilatiyê ew kirîbin. Çîna zanistê, ji karkeran xerabtirin, ne bi serê xwe ne, patronajın. Sedema bêhêvîtiyê eve. Lê ev di Ronesansê de çiqas berxwedêrên yeman bûn. Hûnê Giordano Bruno çiqasî bijiyanî bikin? Ma cardin em dikarin dengê Sokrates destnîşan bikin? Tu kes nikare îddîa bike ku zîhniyetên mezin wenda bûne. Divê neyên wenda kirin û werin bijiyanî kirin. Divê yên weke Mewlana, Mansurê Xellac, Manî, Suhrewerdî werin zindîkirin. Divê ruhê pêxemberbûyînê, cewherê wê jî were hemdemkirin. Di wateyekê de bi zanebûna ku ew nemirine, bi nûneriya rastî divê werin jiyanî kirin. Ev xelek dikarin me nêzî zîhniyeta pêwîst ya rojane bikin. Ez dikarim nirxên bikok yên serdema me jihev derxim. Lê belê zindîkirina yên xerab bibinketine, wê pir zêde bandoreke afirêner dernexin holê.
Tişta ku ez dixwazim rave bikim, divê bi gengazî rêbaz bi xwezaya civakî, bi taybetî jî weke halê vê civakê ya hebûna xwezayê, ev aliyê ku ez jê bawer dikim û ewleme pêwîstiya girêdana bi civaka ehlaqî û polîtîk re ye. Hemû ekolên fikir û zanist, felsefe, meylên hûnerê yên bi civaka ehlaqî polîtîkre ne girêdayî seqet dizên û dûr an jî nêzîk ji gelek nebesiyan re rê vedikin. Ez hewil didim vê destnîşan bikim. Hemû rêbaz û berhemên etîk, estetîk û zanînê bi gengazî bi civaka ehlaqî û polîtîk re girêdayîbin. Ez vê wek şertê yekem diyar dikim. Dixwazim balê bikişînim ser ku derveyî vê şertê yekem hemû rêbaz, zanîn, etîk û estetîk jiber ne ewle û seqetin, bi şaşîtî, kirêtî û xirabiyan dagirtîne. Bi israr destnîşan dikim ku ev xusûs ne tenê qeneet û fikrên min yên şexsîne, di rêya heqîqetê de normên binirx yên bingehîne.
HUNER PÊWÎSTIYA ESTETÎKBÛYÎNA ÎNSAN PÊK TÎNE
Estetîzekirina jiyanê, hîn zêde xweşik kirin erka hûnerê ye. Bi hûnerê însan li gor taybetiyên xwe gerdûnekê ava dike. Civak encax bi afirandinên qadên bingehên yên weke deng, wêne, mîmarî  tê rêvebirin. Ma civakek bêyî muzîk, wêje, mîmariyê dikare were fikirîn? Hemû afirandinên di vê qadê de di wateya metafizik de ne. Ev afirandin jênevegerên berdewamiya civakê ne. Huner hema wek afirandina fikir ya metafizik, pêwîstiya însan ya estetîkbûyînê pêşwazî dike. Çawa ku însan bi bijareyên xwe yên başî-xerabiyê tevgerên xwe biwate dike, bi daraziyên xwe yên xweşikî-kirêtiyê jî tevgerên xwe yên hunerî bi wate dike. Wêje û huner can dide. Yekgirtina me bi van tiştan dibe. Qet nabe ku wêje û huner biçûk werin dîtin. Ji bo aştî û biratiyê rista pirê-cisrê dilîzin. Amûrên kêmkirina êşê ne.
Tê gotin ku "huner pêşiya demokrasiyê vedike". Ev raste. Siyaset piştgiriya xwe ji rakişandinê digire, lê huner yek girtinê, biratiyê pêş dixe. Divê huner rista xwe ya pêşxistina demokrasiye bibine. Xebata demokratîk û xebata hûnerê karên pîrozin. Divê niha li ser hîmên şoreşgerane hîn zêde cîdî be. Divê bibin şervanên huner û çandê. Ev ziman zimanê pêxembera ye.
Me eyb û kirêtiya hezaran salan têk bir; egîdî, sebr û wêrekî derxist holê. Ev min şad dike, ez şerefa vê radikim.
Di nava civakê de spor an jî werzîş û huner jî di aliyê xebitandinê de êdî di xizmeta netew-dewletande veguherîne saziyên bibandor yên şerê sîxuriya ser civakê. Bi taybet jî çanda navdar û bernameyên werzîşî bi vê armancê bi zêdehî tên bikaranîn. Qadên seks, werzîş û hûnerê ji aliyê sermaya gerdûnî ve bi awayeke zanebûn bê naverok hatine hiştin, veguherîne saziyên sîxuriyê. Di encam de rê li ber bikaranîna herî bi bandor ya van tevgeran li hemberî civakê hatiye vekirin. Bi pêşkêşiya van nirxandinan bê gûman em bandorên van qadan û hebûna cewherî yên cinsel, werzîşî û hunerî mahkûm nakin. Eksî vê, ev qad ji bo selameta civakê  li ser bingeha nirxên etîkê yên mezin di xizmeta civakê de werin nirxandin. Ev jî erka bingehîn ya şaristaniya demokratîk e.
Aliyên xwe yên estetîk, hûnerî pêş bixin. Uslûbên we bi qerpûşkin, weke sitiriyan tujin, bi vê uslûbê nayê jiyîn. Bibin weke helbest. Terzê min bi feraset, xweşikî û başiyê encam girtinê. Bi gotinê, bi vîna gel, bi ferasetê em hewil didin çareser bikin. Divê uslûbeke we hebe, uslûbekî herikbar, dahûrêner, bide vehesandin, nirxa vegotinê bilind be; hal û tevgerên we çareser bin. Sosyeteya bûrjûwa ev hertim kiriye malê xwe. Ji proleter û gel re jî ev hiştiye; tevgerên herî kirêt, tevgerên herî bi hemaltî; estetîka wê tine, erz û endam tine, uslûb tine. Çima? Ji ber sosyete an jî desthilat vê dikin. Ji ber ku dibêjin hertişt ji bo me ye û yên din ne tiştekin! Em neçarin şêweyên xwe yên ayîdên xwe pêşbixin.
Bi watebûna tekoşîna şoreşgerî, tekoşîna hîn bedewtir û pêşketitir wê bi zêdehî hêzê ji hûnerê bigire. Wê ne tenê bibe çavkanî, jê hêz girtin jî wê gelekî girîng be. Her wiha ser û binbûnên ku tevgera me rê ji wan re vekiriye, wekî din di vê eniyêde jî, di eniya hûnerê de, eniya çandê de gîhandina vegotinên rastî û destnîşankirin, dibe erka ku nayê paşvexistinê. Yên ku mezin jiyan nakin nikarin hûnerê bi afirînin.
Dikarin nûneriya kesayeta hûnera bilindiya jiyana nû û bijartî, xweşikiya wê bikin; nûneriya şeref û namûsê bikin. Jiyana azad jiyaneke çawa ye, kesayetên wan û qerekterên wan kîjan taybetmendiyên ehlaqî-polîtîk radigirin, çi jiyan dikin, çi jiyan nakin, vana hemûyan bi hevdûre û bi terzê xuluqkar bidestgirtin pêwîste. Pêwîstiya we ji romana van heye. Ma di mînakên şoreşên din de jî wisa pêşneketiye? Destpêkê jiyana ku xeyal kiribûn, kirine mijara romanan. Lê Mixabin hîn li gel me ev pêşneketiye. Vaye cardin hertişt tê li ser hestên we radiwest e. Hûn ji bo her tiştî dimirin û didin kuştin. Lê ew jiyana ku hûn dibêjin jiyana azad, hûnê wê jiyanê çawa bijîn xeyal nakin. Ma bi vî halê xwe hûnê çiqasî bikaribin huner û wêjeya me bikin? Dahûrînên ku ez dikim ji bo roman nivîsekî rast, di rastiya xwe de di asta çavkaniyên muezzam de ne. Di wir de ji qehremanan heya xayînan, ji tirsonekan heya arîstokratan, bi qasî trajediyên ku nehatine dîtin û bi dehan bûyer û kesayetên jiyan bûne hene. Ma kê ji we ev nirxandin? Çîrok û biranînên vê gelek tên kirin, wêneyên wê tên kişandin, resmên wê tên xêzkirin tên weşandin. Lê belê kanî ew xeyalên hîn mezintir yên sazûmaniya têkiliyan, pêşnûmeyên bêrîkirina têkiliyan, ew xeyalên we li ku man? Şoreş bixwe di heman demê de xeyalên mezin jî destnîşan dike. Xeyal û aso çiqasî fireh be, şoreş jî ewqasî pêşdikeve. Lê bi rastî jî ev tam xeyaleke? Na! Rastiyeke vê ya civakî heye. Ya ku maye jî di pêşnûmeya ku me amadekiriye de jî hem xeyal hem jî xalên ku aj didin çêbûne.
Di Kurdîstanê de heskirin jî hatiye qetilkirin. Ji xwe di gelek dev-zimanên dagirkeran de vegotinên "kurdên wehşî, navenda heskirinê tineye, tişteke bi navê heskirin û jêheskirinê nizanin, vana nizanin ji ber vê hunera heskirinê jî tine ye" dinirxînin û bi rastî jî wiha ye. Di heman demê de zîhniyeta dagirkerî di vê mijarê de jî rista qetliyamê lîstiye. Ji bo vê xebata vegotina çalekiya şoreşa me, çalekiya heskirinê ye hatiye pêşxistin. Rêya hezkirinê, terzê hezkirinê bi şoreşê re girêdayî tê bidestgirtin, çavkaniyên wê yên berbiçav derdikevin holê. Û hezkirin, rêzdarî wê çawa pêşbikeve, wê bi çi re girêdayîbin, çawa were pêşxistin derdikeve holê. Bingehên azad di vir de wateyeke gelek girîng destnîşan dikin. Di vê mijarê de cardin estetîk dikeve rêza pêş. Pêwendiya estetîkê bi ruh, fîzîk, zanebûnê re tê girêdan û wek aliyên ku însan xweşiktir dikin derdikevin holê.
Di wateyekê de dema em rastiya şerê xwe jinûve amade dikin, rêya hezkirinê ya ku bihêz dide şerkirin, şerê bihêz, bi têkiliya hezkirinê ya bihêz, kûr, berfireh ya jê re rê dide vekirinê hatiye eşkerekirin. Hest û hezkirinên destpêkê yên erzan hêz nedaye şer an jî ji wir û pêve wê bi awayeke jêneveger berbi paşketinê ve biçe. Heta wiha bi her awayî berbi tesfîyekarî ve biçe. Hatiye hewildan ku ev rastî derkeve holê. Û ev nêzîkatî xwedî nirxên gelek mezin in. Di Kurdîstanê de rêya gelek encamên girîng dane vekirin. Di kesayeta jin de derketinên mezin dane avakirin. Di nava malbatê de terzê jiyana berê hatiye hilweşandin. Di zîhniyeta zilam ya kevin de veguhertin çêbûne. Cardin di nêzîkatiyên jin yên kole yên berê de rêya veguhertinan pêş xistiye. Û ev dibe pêşketineke şoreşgerî ya girîng. Dibe pêşketina şoreşgerî ya şoreşa ku em jiyan dikin. Di rastiya xwe de ev tam dibe aliyên hunerî. Aliyê romanê ku pir zêde were bikaranîn jî eve. Di aliyê fîîlî de roman jiyan bûye. Bi daneyên xwe yên girîng jiyan bûye. Bi dawîkirina wê bi hêza pêşnûmeyan, bi xeyalên hîn zêdetir, bi azweriyan, vîn, ezîm estetîkê aliyên wê ku werin têrkirin hene. Em dibêjin ku pêşxistina van aliyan pir hêjane.
Dema hunereke muzîkê bixwe tê guhdarîkirin, di rastiyê de ji dîroka kurdan tiştek tê fêrbûn. Tu digihêjî heqîqeta wê. Di wê kêliyê de, ew beş bixwe ewqasî bibandor û hînker dibe ku tu digihêjî heqîqeta xwe bi xwe. Tenê bi zanistê gîhandina heqîqetê çênabe. Bi hûnerê, bi muzîkê jî gîhana heqîqetê pêkane. Çîrokeke Êzdî"yan (Derwêşê Evdê) dikare te bi heqîqeta te re, bi nasnama te re bide hevdîtin. Min çavkaniya strana ku Aram digot û ez jî gelek jê hez dikim dît. Berî zayînê 2000 salan ji Sûmeran tê. Ew huner ji dayikê hatiye. Yên me, bi hûnerê re eleqedar dibin, lê belê bi dîrokê re pêwendiyên wê nikarin çêbikin. Xwezka lêkolîn bikirana. Çima ew stran ewqasî min bandor dikir, niha ez li vê derê hîn baştir têdigihêjim. Ew huner ji berî niha 4000 salan tê. Ew nexşek ji Rojhilata Navîn e. Aram bilbilê Rojhilata Navîn bû. Bi Kurdî, Ermenkî, Sûryanî, Erebî û gelek zimanan digot. Di heman demê de Aram hozanê min yê şexsî bû. Di demên destpêkê de hîn li Enqerayê di radyo de min dengê wî bihîsti bû. Dema cara yekem li Enqerayê min Aram Tîgran guhdarî kir min gotibû; "divê ev deng nemire, hertim azad bimîne". Piştre min ew nas kir. Penasayên min yên wiha pirîn caran çêbûn. Ji bo Aram gelek caran nirxandinên min yên pir kûr çêbûn. Encax xweşikbûneke wiha ji vî dengî biteyisiyîsiyana. Dikaribû ji jinekê jî bi teyîsiya. Dikaribû ji tiştekî din jî. Xweşikbûn tiştên ayîdê hûnerê ne. Dengê Aram dengê Dawudî bû. Dengekî sehl û bi tebat bû. Wî dengî ez birim berbi Kurdîstan ê. Ev deng namirin. Ji bo Aram nikarim bibêjim mir. Ji bo Aram dibêjim şehîd, ew bêmirin bû. Ji ber ku bi zêdehî tekoşîn jiyan dikir. Bi kelecan bû. Ji ber vê dibêjim ew şehîdê mezin e. Ji bo min Aram nemiriye, ev deng namir e. Jiyaneke wî ya bi şeref û tekoşervan hebû. Ji hunermendên din re bibêjin, bila bîranîna wî bi zêdehî bidin jiyîn.
Ji jinan re jî bi taybetî vê dibêjim; zilam, mêrê herî baş jî bin, evîndarê herî baş jî bin, tu caran destûrê nade te. Bi Manî re girêdayî helbesta ku min berî niha behs kiribû bila bixwînin û binirxînin. Bila berhemên hunerî yên nû pêşbixin. Bînin warê şano û leyîstokan. Bi ya min be ji wê lîstokek bi qasî 50 rûpel dikare bê derxistin. Di wir de hevokek wiha heye, wek halê heyî ez dibêjim;
Te nivîsand, nivîsand nexwendin,
Te got
Wan tişteke din famkirin,
Wan di vê cîhanê de
Wekî din jiyan kirin.
 "Di vir de ez xwe dibînim. Ez van risteyan jî diyarî herkesî dikim."
Divê di mijarên jin û êş, jin û dad, jin û azadî, jin û hûner, jin û xweşikî de nîqaş bên kirin, bibin pirtûk. Min behsa hevpeymana civakî kiribû, ez bawerim ew çêkirine, kirine pirtûk. Jina xweşik, jina wêrek, jina bi vîn dikare cîhanê fetih bike.
JIYANA RAST ENCAX BI JINA KU XWEŞIKIYAN FETIH DIKE RE DIBE
Bi ya min be, têkilî, bihevrebûna  jin-zilam, divê weke hûnerekê be. Heger wiha bibe dikare watedar be.
Min di paraznameyên xwe de têkiliyên jin-zilam bi cewherî biyek hevokê destnîşan kiribû.  Min gotibû; "zilamê zordest û xasûk". Li ser vê sîstemek hatiye sazkirin. Hegel behsa têkiliyên efendî-kole kiribûn. Ji van herdû têgehan ket rê û sîstema xwe li ser van înşa kir. Lê min bi tehlîla "zilamê bihêz, zordest, xasûk" dahûrîn kir û sîstema xwe ava kir. Di vê mijarê de di navbera min û Hegel de ji wehkevbûnê zêdetir hinekî paralelbûn an jî rastênheviya me heye lê ne weke hev e. Hegel li ser aqlê zilam û têgeha îktîdarê dikeve rê. Lê ez ji DEMOS ê, bi tahlîlkirina têkiliyên jin-zilam dikevim rê. Yek ji parêzerên min gotibû; "nêrînên we dişibin fenomenolojiya Hegel".
Di aqlê TÎN de jî heye. Min fenomenolojiya Hegel xwend. Ecêbe, ji wekhevbûnê zêdetir, rastênheviyek heye lê ne weke heve. Hegel ji têkiliyên kole-efendî dikeve rê û digihêje sîstema dewletî ya hemwelatî û netew e. Em îro dibînin ku netew-dewlet, têgeha wê ya hemwelatiyê di çi halî de ye.  Nietzsche ev ji berê de dîtibû. Bi têgihîna însanê bilind û vîna bilind xetimandina dewlet-netew, hemwelat, netewê Hegel rexne dike û wî temam dike. Pirtûka Zerdûşt Wiha Emir dike vê mijarê wiha bidest digire. Însanê bilind yê Nietzsche ne tîpa însanê ku faşizm avakiriye ye. Însanê bilind yê Nietzsche hîn zêdetir bi hûner, felsefe, ehlaqê re pêwendîdar e. Di vê demê de li Elmanya felsefe gelek zindî ye. Rojava bi hegemonya zîhnî ya ku Hegel avakir û têgeha vîn ya ku Nietzsche avakir xwe gîhand amûrên xwe yên sîstemî. Divê Rojhilat jî şoreşa xwe ya zîhnî pêk bîne. Sedema bihêzbûna sîstema Rojava ji ber pêkanîna şoreşa zîhnî û teknolojîkî ye.
Diviyabû serwextbûna li tevahiya naverok û şêweyên asta koletiyê ya ku bi hezarê salan bi aqil û destê mêrê mêtinkar û zordest ketiye jiyana jinê, bibûya gava pêşî ya sosyolojiya rastiyan. Ji ber ku şêweyê mêtinkarî û koletiya di vê qadê de prototîpa tevahiya şêwegirtinên mêtinkarî û koletiya civakî ye. Berevajiyê vê jî rast e. Têkoşîna wekhevî û azadiyê û asta destketiyên vê têkoşînê li dijî mêtinkarî û koletiya xistine nava jiyana jinê, bingehê têkoşîna wekhevî û azadiya li dijî mêtinkarî û koletiya di her qada civakî de ye. Têkoşîna azadî û wekheviyê di dîroka şaristaniyê û modernîteya kapîtalîst de li ser bingehekî rast pêş nakeve û rê li ber serketineke bi hêz venake, sedema bingehîn a vê yekê ew e, zêhniyet û saziyên mêtinkarî û koletiya şêwe danê û xistine nava jiyana jinê baş nehatiye fêhmkirin û têkoşîna li dijî wan weke bingeh nehatiye dîtin. Çawa ku dibêjin, masî ji serî ve genî dibe. Wexta ku bingeh rast û durist neyê danîn, avahiya were lêkirin wê di lerzeke piçûk de xira bibe. Di dîrokê û roja me ya îro de bêhejmar mînakên vê rastiyê hene.
Kengî mirov hewl bide pirsgirêkên civakî çareser bike, divê mirov hûrûkûr li ser diyardeya jinê bifikire, ji bo hewldanên wekhevî û azadiyê jiyana jinê bike çavkanî û ev yek divê hem bingehê rêbaza lêkolînê û hem jî bingehê hewldanên zanistî, exlaqî û estetîk ên hevgirtî be. Rêbazeke lêkolînê ya ji rastiya jinê bêpar, têkoşîneke azadî û wekheviyê ya jinê nexe navenda xwe, nikare bigihîje heqîqetê, nikare azadî û wekheviyê pêk bîne.
Lêkolînkirina jin, weke kombûna têkiliyên civakî, ji ber vê sedemê, ne tenê watedar e, lê ji bo derbaskirina (tehlîlkirina) girêyênkor ên civakî jî, pirr girîng e. Şikandina korîtiya derbarê jinê de wisa ye ku heman weke ku mirov atomê perçe bike, ji ber ku nêrîna serwer a zilam bexşangî (bagişiklik) wergirtiye. Ji bo şikandina vê korîtiyê, pêwîst dike ku mirov hewldanên mezin ên rewşenbîrî pêş bixe û zilamtiya serwer birûxîne. Her wisa pêwîst e mirov di enî (bere) ya jinê de jî, ew jina ku hema hema ji xwe re kiriye şêwaza heyînê û di rastî de weke civakî hatiye avakirin, tehlîl bike û ewqas jî birûxîn e. Hemû şikestinên xeyalan ku hatine jiyîn di nekarîna xistina jiyanê utopya, bername û rêgezan, ên di serkeftin an ne-serketîbûnên tevahiya têkoşînên azadî, wekhevî demokratîk, exlaqî, polîtîk û çînî de, şopên şêweya têkilî (ya di navbera jin û mêr de) ya serwer (a bi desthilatî), ku nehatiye şkandin, di xwe de werdigirin. Têkiliyên ku tevahiya newekheviyan, koletiyan, zordarî (destpotî)yan, her wisa faşîzmê û milîtarîzmê xwedî dikin, çavkaniya xwe ya sereke, ji vê şêweya têkiliyan digirin. Eger em bixwazin li wan peyvên ku navên wan pir derbas dibin, her wekî wekhevî, azadî, demokrasî, sosyalîzm, derbasdariyên ku nebin sedema şkestina xeyalê, bar bikin; pêwîste ew tora têkiliyên ku li derdora jinê hatine honandin, ku bi qasî civak û xwezayê kevnin, were ji hevxistin û perçekirin. Ji bilî vê, wekî din ti rê nîne ku mirov bibe azadiyê, wekheviyê (ya guncav li gel cewaziyan), demokrasiyê, ya rasteqîn, û exlaqek ku durû nebe.
Azadiya jinê tekoşîneke pir mezin dayîna ber çave. Min wêrekiya ku di destpêkê de bi jinêre bifikirim, li kuderê, kengî û çiqas xerabî hebin nîqaşkirin û derbaskirina wê danî pêşiya hemû têkiliyên xwe kir. Tenê jina ku xurt be, bihizire, karibe biryarên baş, xweş û rast bide, dema bi vî rengî min derbas bike, karibe min heyranê xwe bihêle û karibe bibe muxetaba min, bê gûman yek ji kevirên koşe yê lêgerîna min a felsefî ye. Min tim bawer kir ku wê sirên herikîna jiyanê ya li gerdûnê, bi vê jinê re, bi aliyên wê yên herî baş, xweş û rast re, wate bibîne. Her wiha min bawerî bi exlaqê xwe jî anî, ku bi qasî ku ti zilam nikaribe bi ser bixe, şêwaza min a heyînê bi malê li pêş min ê 'zilam û sermaye' re, anku bi hurmuza xwedî not hezar mêrî re, qet par neke. Wê demê têgîna, ji femînîzmê jî wêdetir, 'jîneolojî'(zanista li ser jinê), dibe ku armancê çêtir pêşwazî bike. Wê xwe biparêzin. Çanda xweşik derxin holê. Nasnamyên xwe pir baş birêxistin bikin. Nebaşiyên pênc hezar salan derbas bikin. Ha wê demê wê jin fetih bike. Hûn mihtacî vê ne. Bi jina ku xweşikiyan fetih dike encax jiyana rast bê jîyîn. Heger em ji sosyalîzmê bawer dikin, ji civakbûnê bawer dikin, nêzîkatiya me ya xweşikiya estetîk çiye, di civakê de cihê tevgera jinê çiye, divê di kesayetên xwe de zelal bikin.
Di rastî de, hevpariya jiyanê, ku bi jinê re, bi felsefeyeke bikok a barkirî bi azadî, wekhevî û demokratî were rêkûpêkirin, di wê astê de ye ku xweşiyê, başiyê û rastiyê di asta herî têkûz de pêk bîne. Ez, weke kes, jiyîna bi jinê re di nava statuyên heyî de, bi qasî ku pir bi pirsgirêk dibînim, ewqas jî kirêt, xirab û şaş dibînim. Jiyîna bi jinê re di bin statuya (rewşa) heyî de, mijareke ku ji zarokatiya min û vir ve têde wêrekiya min herî lewaze. Ya mijara  gotinê jiyaneke ku wê ajoyeke pir xurt a weke ajoya zayendî jêpirsîn bike. Ajoya zayendî, ji bo xatirê berdewamkirina jiyanê ye. Harîqayeke xwezayê ye, ku pêwîste pîroziya wê hebe. Lê yekdestiyên sermaye û zilam, jinê ewqas qirêj kirine ku, ev jiyana harîqaya xwezayê, hatiye veguherandin ji bo saziyek ku, mîna 'karxaneya haveynî' metayên herî pispayebûyî hildiberîne. Dema ku bi van metayan civak tê serûbinkirin, jîngeh jî di bin giraniya şêniyê de (ji bo niha şeş milyar e; em jîngehê bi şêniya deh, pêncî milyarî bihizirîn, eger bi vê lezayiyê biçe) kêlî bi kêlî rûxanê dijî. Bê gûman, dema mirov bi jinekê re bibe xwedî zarok, di cewher de bûyereke pîroze; nîşaneya wê yekê ye ku wê jiyan neqede. Bêdawîtiyê bi mirov dide hîskirin. Ma dikare hestekê ji vê hêjatir hebe? Her yek cûre, di bin vê rastiyê de, heyecan (coş) a xwe berdana ji bêdawîtiyê re dijî. Lê ev rewş di mirovê roja me ya îro de di asta, weke hozanek dibêje, "haveyna me, belaya serê me", de tê jiyîn. Nikare were înkarkirin ku em careke din bi bêexlaqî, kirêtî û şaşîtiya mezin ya yekdestiyên sermaye û zilam re rûbirû ne, ku dijberî Xwezaya Yekemîn û Duyemînin.
Bi kinahî, wateyeke cîddî ya felsefeya jiyana bi jinê re ya bi zêdebûnê re girêdayî tine ye. Ji ber sedemên mîrateya civaka çînî û diyardeyên bihêzbûnê, li ser jina zayek wate hatine barkirin; ev jî bi dagirî û mêtîngeriyê re eleqedare û ji bo jinê nebaşe. Ango jina zêde zaroka tîne, jina ku zu dimire ye. Jiyana wateya bilind bi jinê re bi qasî binirxe, an bi kêm zarokbûn an jî bi giştî heger ji bo nifşê mirovan pirsgirêkên zêdebûnê hebe bi jina qet zarokan nayne dibe. Pir zarok zayîn, xwe di asta kes û civakê de ji bo civakên  xwe bi hêza entellektuel û polîtîk pêşnexistine, gelên paşvero û mêtîngeha wek xwe parastinê dikare nirx bigire. Li hember qirkirina li ser xwe bi zêdekirina nifşên xwe bersiv dayîn rêbaza berxwedan û hebûna xwe ye. Lê belê ev xweparastina civaka ku zêde şensê jiyana azad tine ye derbasdare. Ji ber vê yekê di nava civakên wateya wan ewqas kêm de jiyana bi jinê re li ser hîmên estetîk û rastiyê ne gengaze. Civakên heyî yên cîhanê ve rastiyê piştrast dikin. Di jiyana bi jinê re de aliyeke xweser yên têrkirin parastinê tine ye. Têrbûn û parastin ji bo her zindiyî derbasdare. Nîqaşkirina jiyana bê jin an jî bê zilam zêde ne bi wate ye. Di hemû jiyanên cot û necot de diyardeya nêr-mêtiyê heye.  Her wiha pirsgirêk ne hevjiyan bixwe ye, di watekirina civaka însan bixwe de ye.
Pirsgirêka jinê, encama çanda destavêtinê ya pênc hezar salaye. Li vê derê her ku ez vê mijarê lêdikolim ez dikevim saw û dehşetê. Jin hîn jî di rewşa ne famkirin û ne tehlîlkirina vê pirsgirêkê de ne. Divê jin pirsgirêkên xwe fam bikin û çareser bikin. Hûnê di ferqa cînsê xwe de bin. Hûnê xwe nas bikin. Ez dibêjim jina azad, lê weke azadiya cînseltî çewt û berovajî dikin. Hertiştî di asta cînseltîde bi dest digirin. Di ewrûpayê de jî bedena jinê pir zêde derdixin pêş, tehrîk û gûr dikin, jinê dikin meta. Nêrînên we cûda ne, ji porê xwe bigirin heya neynûkê xwe, hûn nizanin xwe çawa lihev bînin. Mezinkirin û perwerdekirina keçikan jî gelek girînge.  Heta malbatên van zarokên keçik bi xwe jî nikarin wan perwerde bikin. Divê hûn wan perwerde bikin.
Şêweya bidestgirtina min ya jinê felsefî ye. Yek ji perçeyek xweşikiya xwezayê, weke estetîk bidest digirim. Jin bi wate ye. Hegel, cara yekem hewil da ku felsefeya xwe li ser têkiliyên jin û zilam bibingeh bike. Lê dema ev biser nexist, li ser têkiliyên kole-efendî felsefeya xwe înşa dike. Ez jî felsefeya xwe li ser zilamê xasûk û bihêz û jinê înşa dikim. Li hemberî zilamê bihêz û xasûk jina herî xweşik û saf-paqij di nava çend mehan de van taybetmendiyên xwe wenda dike. Hûn dizanin di zimanê Yewnanî de di wateya aqil û rêzikê de têgeha "nomos" heye. Di zimanê Tirkî de di wateya namûsê de tê bikaranîn. Di feraseta min ya namûsê de jina bi namus, ya ku xwe azad dike, ya ku rêzikên xwe bixwe diyar dike, rêzikên xwe dide ferzkirin û jiyankirinê ye. Jina bi zilam re girêdayî, jina li gor pîvanên zilam di malê de hatiye girtin, ne jina bi namûse. Di Sûmeran de jinên herî zadegan an jî navdar û xweşik di perestgehên Zîgguratan de bi navdaran re jiyan dikirin. Jinên din jî bi awayeke hîn ketîtir di zewîcin, di malan de dihatin girtin. Ya rastî ji xwe piştre perestgeh jî hatin berovajîkirin. Ez bihevrebûna bi jinê re dişibînim awaza ku ji amûrên muzîkê derdikevin. Divir de ya divê şaş neyê famkirin amûrbûyîn ne di wateya amûrbûyîna jinan, an jî navgînbûyîna jina ye. Ez behsa amûrbûyîna jinan nakim. Ez behsa domdariyê dikim. Ya ez hewil didim vebêjim; heger keda rast famkirinê hebe, wê têkiliyeke ku hertim were tazekirin, nûjenkirin ku di navde xweşikî her cûreyî, têra heya dawiyê jiyanê bike pêk were. Ji xwe divir de zilam jî girînge. Heger zilam jî dixwaze vê xweşikiyê jiyan bike, divê di vê bingehê de bi jinê re hev bibine. Eksî vê wê çanda destavêtinê ku her roj bi cînseltiya zorê, dext û kolekirinê ve girêdayî ye derkeve holê.
Waye hûn dibînin, serê keçikên ciwanik bi navê eşqê û heskirinê jêdikin. Jinên ku li ser van nirxaninên min destnîşan kirin min di şopînin û yên bi îddîa dikarin lêhûrbûyînê bikin. Tekoşîna jinan veguherînere.
Em di azadiyê de bi israrin. Jina bi xwe bawer wê meşa xwe berdewam bike. Ev bûyereke ku çanda pîyasayê an jî bazarê derbas dike. Civaka Rojhilata Navîn piştî pêcn hezar salan wê jinê bîne asta pêş. Nêzîkatiyeke emperyalîzmê jî wiha heye. Li ser azadiya jinê feraseta bûrjûwa tê dextkirin. Ev bi çanda Hollywood tê dextkirin. Nêzîkatiyeke me jî ya azadiyê heye.
Di felsefeya Hegel de şert û mercên pêkhatina eşqê ya pêwîst di navbera jin û zilam de bi tewazina hêzê tê bidestgirtin. Ev merc pêwîst, lê ya ku kêm dimîne jina bihêz destnîşan dike. Behsa tewazina hêza qebe û maddî nayê kirin. Tewazina hêzê ya mijara gotinê fîzîkî, derûnî û civakî ye. Yanî tê gotin ku eşqa jina ku koletiya herî kevin û asta koletiya ku hatiye pejirandin jiyan dike nabe. Ji bo di pratîkî de bikaribim naveroka vê nêrîna felsefî ku para xwe ya rastiyê heye dagirim, min pêşiya bihêzkirina jinan (aliyên bîrdozî, polîtîk, ehlaqî, estetîk, fîzîkî, hetta leşkerî-ji bo parastina cewherî-, aborî, werzîşî û hw.) vekir.
Rêzdariya ji jinê re û tevgera bipîvan, rêya hezkirin, rastî, başî û xweşikiyê di bihêzbûna wê de derbas dibe. Bi giştî li gor vê ferqkirinê bi jinê re eleqedar dibûm. Her wiha heya ku jin bihêz nebû, eşqa wê pêşnediket. Ez bi misogerî bi vê penaseyê bawerim. Gelek bi ewleme ku ev mijareke divê tu caran tawîz jê neyê dayîn. Her ku min ev kêrhate û hêz qezenc kir şûnde xebatên min yên jin binirxtir dibûn. Keçên ciwan weke ku ji xewa hezar salan şiyarbûne, ji kabûsekê şiyar bûne li min mêze dikin û hembêz dikin. Di van mijaran de rexmî ku ez gelek bi îhtîyatim, min bi xwe jî bi awayeke bê dawî ji hembêzkirina wan, ji bêrîkirin û hezkirina wan, ez ji tacîdarkirina ser seran dûr neketim.
Di têkiliyên hevjiyanê de asta têkiliyan çiqasî zanistî, hunerî û felsefî be ewqasî dikare rê ji civaka sosyalist re vebike. Di serî de nirx û rêgeza pratîkî ya jêneveger ku were pêkanîn di têkiliyên hevjiyanê ya sosyalîzmê de heye. Derveyî vê rêyeke din ku bibe ber terzê têkiliyên sosyalîzmê ve tine ye. Hebe jî, ev têkilî neyekserin û ji xetayan re pir vekirî ne. Hevjiyana sosyalist weke têkiliyeke di navbera du kesan de têgihiştîn wê bibe nêzîkatiyeke kêm. Bê gûman hevjiyan bi şênberiya du aliyan an jî cotan dikarin werin jiyîn, lê belê tenê bi vê nayê sînorkirin. Hevjiyan, bi hêza wate ya mezin, bi estetîk û ehlaqê jiyana cewherî an jî pûxteyî ku hîn şênbertir jiyan dibe ye.
Ji bo zilaman jî vê dibêjim: nebêjin jine û derbas nebin, divê jina nû fam bikin. Jina nû, berî azadiya welat û civakê tê. Ji bo me di avakirina civaka azad de di radeya yekem de ye. Em çima jinê lêdikolin? Ji Sûmeran ve jin hatiye xistin, xistine piyasayan. Kê kiriye? Civaka çînî ev avakiriye. Em xebitîn ku vê jinê rakin û cardin ava bikin. Zilam jî divê ji xasûkiyê zêdetir bikaribin jinê bilind bikin. Wê jin bilind bibe, jiyan jî bi wê xweşik bibe, divê zilam jî bi vê xurûr bibînin. Ev tê wateya ji ya te zêdetir ya civakê. Girêdana bimin re têgihiştina vê ye. Ez xwediyê ehlaqê mezin yê bi vê bawer dikim, cîdîm e. Di vê mijarê de wê serokatî jinê ji laneta cîns rizgar bike. Nikarim girêdana xwe îstîsmar bikim. Ezê jinê ji vê besîtbûna cînseltiyê paqij bikim û vê girêdanê bi tekoşîna azadiya pir mezin bibersivînim. Divê bi zêdehî nîqaş bikin. Lê hevdû bilind bikin. Ji van nîqaşan yekîtîyên mezin peyda dibin.
Li hemberî hemû hêmanên neyênî ji bo hevjiyana azad, herî kêm bi qasî tekoşîna jina azad, tekoşîna zilamê azad jî pêwîste. Zilamtiya azad bi derbaskirina kesayeta zilam ya ku ji aliyê civaka serdest ve hatiye kolekirinê pêkane. Di rastiya me ya civakî de merteba ARÎFTIYÊ ya ku heya niha derbasdare divê were qezenckirin. Bi qasî nirxandina "zilam ji dayik nabe, piştre dibe zilam"  weke zilamtiya şaristaniya me, jidayikbûn dibe lê belê weke zilamekî azad jî dibe. Dîmenê zilam yê Prometheûs encax bi zanist, felsefe û hunera modernîteya demokratîk ya serdema me ve were şênberkirin. Mîtolojî, ol, felsefe, zanist û huner ji bo jiyanê ne, rista wan ya sereke pêkanîna hevjîna azad û çotbûna azade, avakirina vê ye. Divê ev bi girîngî were têgihiştîn, ehlaqîkirin û estetîk kirin. Zewacên hemdem yên heyî li gor çanda xanedaniya hiyerarşiyê ne. (Ev çande ke heft hezar sala ye). Zewacên niha berdewamiya wane, dibin weke nirxên bingehîn yên civaka dewletî ku li wir tên hilberîn. Di nav de destavêtin weke norm an jî pîvan û terzê namûsê di kesayeta jin û zilam de bi kûrahî hatiye daqurtandin. Biserneketina eşqê, hevberdanên zêde û têkçûnên malbatan weke encamên vê çanda destavêtinê ku bi armanca dagirî û îktîdarê li ser jin û zilaman tê barkirinê divê were famkirin. Civaka azad û sosyalist encax li hemberî çanda destavêtinê kêlî bi kêlî bi felsefe, zanist, etîk, estetîkê kesayetê ku hatine avakirin pêkan be. Li ser vî bingehî jiyanên hevjiyana azad ji bo kes û civakan eşkereye ku wê hertim xweşikî, rastî û başiyê bi afirînin. Jin û zilamên jiyana sosyalist encax bi awayê gerdûnî, hevpar bikaribin jiyana azad pêk bînin, bi awayê tekane jî dikarin şensê jiyana baş û xweşik bidest bixin. Di tevahiya tevgerên mezin yên civakî de ev rastî dikarin werin dîtin. Jiyana tekane bi qasî lîstokên zewacê, ya hîn xerabtir jî divê bi têkiliyên derveyî zewacê neyên tevlîhevkirin. Di jiyana tekane de rexmî ku hemû gerdûnîbûyîn û potansiyela hevpar veşartiye, di malbatgeriya tekane ya şaristaniyê û modernîteyê de û di têkiliyên derveyî zewacê de înkara gerdûnîbûyînê û hevpariyê jiyan dibe. Heya ku ev cudabûn çênebe, jiyana bi sosyalîstî, tekane û azad jiyan nabe. Di zilamê ku di nava têkiliyên sosyalist de ye û bi taybet jî di kesayeta jin de ew zanistî, estetîkbûn, ehlaqîbûn, felsefîbûna heyî xwedî baldariyeke pir mûezzame. Jin û zilamên bi vî rengî li hemberî jiyana civakî bi qasî ku binkeftinê jiyan nakin, bi hebûna xwe jiyana civakî ya azad înşa dikin. Di yekbûna wan ya tekane de jiber ku rêzdarî û bawerî heye di nav de hesûdî, têrnebûn, acizî, kapris-kefkarî û cihê nexweşiyên pergalê tine ye. Ji ber ku hevdû nakin milkê hev, bi îdaya mafê beramberî hevdû, (di huqûqa bûrjûwa de ev heye) nêzîkatiyê ji hevdû re raber nakin. Hêza wateyê ya di tewazina hevdû de di kesayetekî de hemûyan, di hemûyan de kesayetekî dikare bide jiyankirin.
Di van rewşan de divê nûneriya rizgariya netewe û civakê di kesayet de, di hêmanên eşqê de, azadiya welat, rizgariya civakan de were kirin. Ji bo vê jî pêwîstiya şerekî gelek berfireh yê leşkerî û polîtîk heye; hêzeke pir mezin ya ehlaqî û bîrdozî dixwaze. Wekî din jî bê estetîkbûnê, dûrbûna ji xweşikiyê na pejirîne. Yên ku îddîa dikin eşqên wan yên platonik hene, dema eşqên xwe taybetî dikin û daxwaza jiyanê dikin divê van şertan hemûyan pêşwazî bikin. Heger hêza wan ji vê re têrê neke an wê eşqa xwe ya platonik berdewam bikin, an jî heger hêza wan ji vê re jî têrê neke û bi wate nekin wê zewacên li gor kevneşopiyên modernîteyê ku bi rêzikên biyolojîk tên meşandin an jî bihevrebûnên cinsel û kole yên kevneşopiyên şaristaniyê û modernîteyê jiyaneke mijara gotinê berdewam bikin. Eşqa azad û zewacên biyolojik-koletî an jî têkiliyên derveyî zewacê bihevre nabin. Qanûnên eşqê van şêweyên têkiliyan ranake.
Divê heskirin, bi famkirinê ve girêdayîbe, famkirin çiye? Ev jî dikeve mijara felsefê. Felsefe çawa tê kirin, çawa tê fêrbûn, ji bo vê jî divê civaknasî baş were xwendin, divê dîroka her tiştî were zanîn. Divê civaknasî ji perspektîfa dîrokî, felsefe ji perspektîfa dîrokan were xwendin. Divê hertişt di çerçeveya dîrokî de were zanîn. Famkirina îro ji baş zanîna dîrokê derbas dibe. Heskirina rêhevaltiyê, heskirina li ser bingeha famkirinê bi wate ye. Heger jin bikaribin vê biser bixin wê demê weke jin jî, weke xwedavend jî, weke hêmana eşqê jî, weke însan jî dikare were heskirin. Di anatoliyê  de Kîbele, di mîtolojiyên  Mezopotamya Înanna, Îştar, Star de nûneriya  xwedavendên jin heye. Di Sûmeran de perestgehên jin hene. Jinan ev perestgeh înşa kirin û mekanên wan yên pîroz bûn. Qezencên wan yên girîng bûn. Di van perestgehan de jinan, perwerdeyên xwe dimeşandin, perwerdeyên xwe bi her cûreyî didîtin, huner û xweşikiyên xwe pêşkêş dikirin. Heta zilaman dihatin ew temaşe dikirin. Piştre zilaman hatin ev der veguhertin malên xerab yên giştî.
Ji bo bêwatebûna jiyanê were derbaskirin, ezê hewil bidim hedefkirina azadiyê, girîngiya yekbûna bi azadiyê re vebibêjim.  Bi taybet ji bo jin wê jiyana ku tê de ne ya bê wate derbas bikin divê jiyaneke bi îddîa hedef bikin û bi azadiyê re biyek bin. Heger hêza we, wêrekiya we, zanîna we hebe, hûnê xeyalên xwe yên azadiyê, şêweyên jiyana nû saz bikin. Hûnê zekaya xwe ya hestiyar û analitik pêş bixin. Hûnê zekaya xwe ya analitik û hestiyar bihevre bikar bînin, bi şêweya ku bi hevdûre bibin alîkar û dewlemend bin hûnê bikar bînin. Jin dikarin bi naz û delaliya xwedavendan bi ruhê wan xwe azad bikin. Divê jin ruhê xwe, bedena xwe, zanebûna xwe bi hesûdiya xwedavendan biparêze. Çawa ku ol bi baweriyê, bi tiştan bawer dike û pêk tîne, divê jin jî ji bo azadiya xwe weke xwedavendan tevbigerin.  Belê, belê. Weke olekî. Çawa ku ol baweriyeke, divê jin jî azadiya xwe weke baweriyê, weke ol pêkan bikin, ji vê bawer bikin, ji bo vê bixebitin.
 Potansiyela azadî û wekheviya mezin ya ku di eniya jinê de berhev bûye, bi nirxên etîk û estetîk re tevlî xebatên pêşketina civaka demokratîk kirin wê wateyên pir mezin destnîşan bike. Di vî alî de xitimandinek heye. Çareserkirin û bijiyankirina wan girîngiyeke mezin radigire. Hem ji bo civaka netewî hem jî ji bo pêşengiya herêmê ev pêwîst e. Bi jinê re jiyana demokratîk li ser bingehên wekhevî û azadiyê nebe nabeya jiyanê ye. Lê ji bo vê, divê ew ehlaqê kole ku bi kuranî hatiye avakirin û serxweşiya kapîtalîzma hemdem bi ehlaqê azadiyê yanî etîk û bi jiyana xweşik ango estetîkê were derbaskirin.  Bi jinê re û di heman demê de bi zilam re bisernexistina jiyana azad û rast ango jiyana zanistî-jineolojî, ya etîka baş ango ya zanebûna hewlest û ehlaqê nû cardin bi pîvanên estetîk ango jiyana xweşik nebiserxistina berbi civaka sosyalist ve hemwate ye. Jiyan û îddîaya civaka demokratîk ya ku şoreşa demokratîk ya jinê bi encam nekiriye xapandinek e.
Bêyî jinê jiyan nabe. Bêyî azadiyê etîk û estetîk jî nabe. Hûnê hemû jiyana civakî weke etîk û estetîk diyar bikin. Hûnê jiyana aborî, civakî, estetîkê înşa bikin. Û bi vî awayî hûnê me zilamên dirinde rast bikin. Hûnê bixwe bawer bin. Sebra we heye, keda we heye, baldariya we heye. Di navenda xebata xwe de lêgera jina azad bicih bikin. Bi hêvî bin, kedê bidin. Bi bawerî bikin. Xebata bi çavkaniya jin girîng e. Hûn pêşengiya jinan di Rojhilata Navîn de dikin, encax hûn bi vê şêweyê bibin pêşeng. Rêzdariya ji jinan re eve.