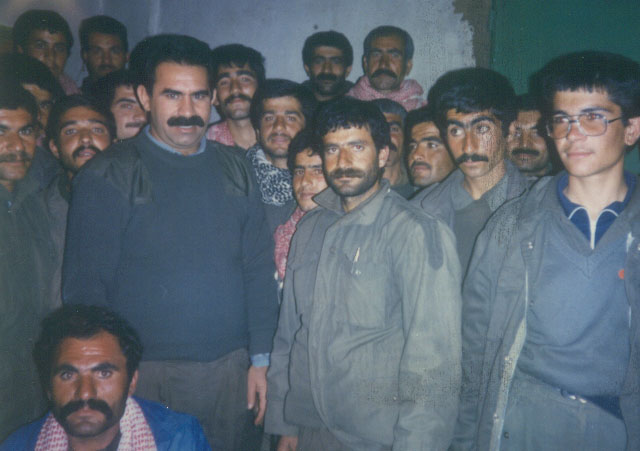 Kuştina Zilamê Kevnar Felsefe û Bîrdoziya Min e
Abdullah Öcalan
Dest avêtina pirsgirêka jinê ji pirsgirêkek şerefa kesane wêdetire. Di heman demê de bi temamî beramberî pêdiviyên cinseltî yê ji rêzê ne. Hevgihînin cinsan bi teqez ji jorî ajoyên cînseltî yên lawiran girtin, gihandina asta dostanî û rêhevaltiya mezin, ji bo min weke lehengiyek rasteqînî hat û min fêm kir ku şermbûna ji ber jinê tirsnakî ye. Ev tirs zilamê serdest ava kiriye. Ev lîstok di bin navê namûsê de dihat lîstin. Dema digot; "hez dikim " jî cara duyemîn dida ber kêran. Bê mafdariya wî hovane ye. Weke cins jin êşandiye, fîzîk, hest û jîrbûna wê hejar kiriye. Jin di gelekî astên teng de hatiye xistin. Zilamê dibêje ez sosyalistim, herî pêş ketime vê dike. Ez bi hêza tîbûna mezin a azadiyê, bi ser vê pirsgirêkê de çûm. Min hejmarek zêde dahûrîn, hevpeyvîn û axaftinên kûr pêk anîn.
Weke kes ez her tim ecêb mame ku jin çawa di bin "statuya" hatî hiştin de dikare bijî û ji bo xwe bipejirîne. Lê dixwazim li xwe mukir werim ku ez bi vê mijarê hesiya me. Dema qesap ji bo serê heywanan jê bikin, wan digirin. Lê heywan bi qesab dihese û diricife. Sekna jinê ya beramberî zilam jî her tim vê recifandinê tîne bîra min. Heta ku jin beramberî zilam nerecife zilam rehet nabe. Ji ber şertê sereke ya serdestbûnê ev e. Qesap carekê jê dike, lê zilam tevahiya temenê jinê jê dike. Rastiya ku divê were eşkerekirin ev e. Ev bi stranên evînî veşartin, nêzîkbûnek pir ketiye. Tişta ku zilam ti caran ne kariye biser bixe û nexwestiye biser bixe, bi hêz, nêzî xwezaya jinê bûyîne. Ev pirsgirêk ne ji bo qelsiyek ji rêzê û cudahiya zayenda biyolojîk derdikeve. Weke nesneya yekemîn a civaka dewletî ya hiyerarşîk, jin di asta jêr de bicihkirinê çavkaniya xwe digire. Ji ber aloziya kapîtalîzmê di aliyê zanistî de jî pir zêde li ser vê pirsgirêkê nehatiye sekinandin.
Zehmete ku di bin sazûmaniya tahakum û milkiyetê de cihê jinê were pênasekirin. Weke berhema sepanên bi hezarê salan jin, di roja me de di rewşa wêrane de dijî. Bandora pergala kapîtalîst ya her tişt saz kiriye jî, tam diyar ne bûye. Zilamê Rojhilata Navîn ê di her qadê de têk çûye, êşa van têkçûnan bi jinê dide jiyîn. Di derve de çi qasî bi heqeretan re rû bi rû bimîne, êşa vê bi zanebûn an jî ji xweber bi jinê dide jiyîn. Zilamê ku nikare civaka xwe biparêze, rêya derketinê nabîne, di nava malbatê de weke dînan êrîşî jin û zarokan dike û hêrsê xwe yên tundiyê li wir vala dike. Diyardeya "kujerên namûsê", ya rastî zilamê ku di tevahî qadên civakê de namûsa xwe bin pê kiriye. Vê wendabûna bûna xwe dibin navê namûsê de ji jinê derdixe û jinan wek namus dibîne.
Carna jî ji bo nefsa xwe û dilê xwe rehet bike berê xwe dide jinê û wê dikûje.
Hinekê jî pêkanîna xwe rehetkirina derûnî ye (ango psîkoterapî). Di bin vê pirsgirêkê de dozek dîrok û civakî ya winda kirî heye. Ger bi vê doza dîrokî û civakî ve rû bi rû neyê û tişta dikeve para wî neke, wê ti caran ji qirêjbûna namûsê rizgar nebe, bi wî "zilamî" dana fêmkirin û psjirandin ji pirsgirêkên bingehîn yek jê ye. Namûsa rastî ne keçikbûna parçeya cinseltiya jinê de ye, divê bi teqez bidin hîn kirin û pêkan ku bi parastina keçbûniya dîrokî û civakî de ye.
Koletiyek ku bi qasî malbata ku di rêveberiya zilam de bi kûranî û domdar dest xistiye tine ye, nêrîna hevbeş a civakzana ne jî. Dahûrandina asta koletiya civakê, mîsoger ji gelek aliyan ve çareserkirina asta koletiya jinê ve gengaz e. Tişta onur û namûsa zewacê tê gotin di rastiyê de, tevahî êşa "împaratorê biçûk" jiyîn e. Çawa ku dema tiştek milkê dewletê tê ya wan onura xwe dibîne împaratorê mezin weke sedemek şer dibîne, împaratorê biçûk jî weke milk onura xwe dibîne dema tiştek bi jinê tê weke namûsa xwe dibîne û bi vê mebestê dike hêncetaq pevçûnan. Ya herî ecêb jî, jin bi temamî ji hêla giyan ve hatiye valakirin, lê ji aliyê teşe ve zêde ketiye rewşek pîrektî, bi xeml û şemal weke "çûkek di qefesê" de. Sazûmaniya deng û maqyaj; ji bilî jina xwezayî, bi temamî sipartine înkara nasnama cewherî û rewşek kesayeta wê dikuje derxistine holê. Jintiya ku hatiye pêşxistin, bi taybet bê windakirina kesayeta jinê ye. Ev jî berhem û ferzkirinek zilam e. Lê tevî di vê rewşç de ye, weke ku sekna jinê ya xwezayî ev e, her tim tewambar dikin. Weke reklam û amûrên tevahî teşîran bikaranîna wê bi temamî di berpirayariya pergalê de ye. Mixabin vê jî hêjayî xwezaya jinê dibînin. Onura jinê bi kapîtalîzmê re ketiye asta herî jêrîn. A ku di nasnameya jinê de têk çûye, di heman demê de nirxên civaka komînal e. Mantiqê pergalê hem muhtaçê vê ye, hem jî pir jêhatiye.
Zilam di cinseltiyê de serweriyek tam digere. Dema di cinseltiyê de ne serkeftî be, difikire ku zilamtiya wî ji dest çûye û diçe dikare bibe heta xwe kuştinê jî. Ev çima wisa ye? Divê di vê kijarê de jî encamên rast werin girtin. Dema zilam xwe di cinseltî de serkeftî nabîne ji xwe re jiyînê bê mane dibîne. Bi jinê re ev rewş cuda derdikeve pêş. Cinseltî, di destê zilam de girtin û venêrînê de weke çekek pir mezin bikar tîne. Bifikirin, di vir de têgehek derketiye holê. Dema zilam di cinseltî de ser dikeve xwe tam weke zilamekî yan jî dîktatorek dibîne; bi jinê re jî li ser bingeha hemû rebenî û lewaziya xwe derbaskirinê tam weke mê dibîne. Di vê mijarê de jî hinekê ketîbûna zilam ber çav digire, xwe dide ber bayê bi wî re jiyînê. Ev e di vir de cinseltî rê ji namûsek xeternak re vedike. Piştî dibêje "ez bi awayek cinseltî malê filan zilamî me" û piştî avahiya têgeheke namûsê tê lêkirin ( li cim me jî hêmana exlaqî ya bingehîn jî eve) tişta derdikeve holê, encamek pir xeteranke.
Welat tê dagirkirin, hesazî caran dest dirêjî welat dikin, dest tavêjin rastiya her cure siyasîbûn û civakîbûnê, lê ji bona vê xwe nalivîne, di vir de bi navê hestek namûs û onurê tiştek naxwuyê. Mînak li gorî min di vê mijarê de mirov dikare hîn zêdetir nirx bide nêzîkbûna exlaqî ya têgeha xwecihiyên Efrîka. Cinseltiya xwe ti caran weke amûreke bikaranînê nafikirin. Vê nasipêrin namûsê jî.
Di qada civakî de ji bona azadiyê pirsgirêka herî girîngrastiya malbat û zewacê ye. Ev di rewşên weke bîrek bê binî de ne. Ev saziyên ku ji bona jinê weke rizgarî tê dîtin, bi hişmendiya civaka heyî re ji qefesekê derbasî qefesek din bûyîne. Di ser halan de bi vê re neçar dimînin ku ciwantiya xwe ya zindî radestî hişmendiya qesaban bikin. Malbat di nava gel de weke nîşaneya civaka jorîn – civaka desthilatdar- diyar kirin, divê weke saziyek sîxurtiyê were dîtin. Zilam nûnerê desthilatdariya di nava civakê de yê malbatê û raveya kûr bûyî ye. Ya rastî dema jin dizewice dibe kole. Ti saziyek bi qasî zewacê ku mirovan kole bike tine ye. Di maneya rasteqînî de koletiya herî berfireh bi vê saziyê re pêş dikevin û di malbatê de rayê kûr ve didomin. Em di maneya gelemperî de behsa bi hevrebûnên hevjînî û jiyana hevbeş nakin. Ev dikare li gorî têgeha her kesî ya wekhevî û azadî xalek bê destxistine. Em behsa malbat û zewaca ku di maneya klasîk a bi cih bûye re dikin. Bi awayek mîsoger maneyek dijî jinê milkbûn, ji tevajî qadên siyasî, hiş, civakî, aborî vekişandin û carek din bi hêsanî ku ser xwe ve neyê destnîşan dike. Ger lêpirsînek radîkal re neyê derbaskirin, bi hedefa demokratîk, azad, wekheviya zayendan hêmanên jiyana hevbeş neyên sazkirin, dikare zewac û têkîliyên ku ji tengezariya têgeha malbata takekes û ajoyan çavkaniya xwe digire, di rêya jiyana azad de rê ji berovajiyên pir xeternak re vekin. Pêdivî ne di bihevrebûnên vî rengî de ye, bi dahûrandina qada hişmendî, demokratîk û polîtîk ve, azadiya xwe tam pêkan û li gorî vê guncav pêkanîna vîna jiyana hevbeş e.
Kevneşopiaya civak bi tundiyê ve xwedîkirin di komîna herî jêr di nava malbatê de, di astek nikare hênase bigirê de ye. Bi taybet li ser jinê di rewşek naye dştin de ye. Weke ti şaneyek jinê ji tundiyê ne recife tine ye. Rewşa zarokan jî heman tişte. Rêbaza perwerdeya bingehîn tundî ye. Zarokek ku bi tundiyê hatiye terbiyekirinî, pir vekiriye ku dema mezin jî bibe dê heman tiştî bike. Serdestiya ku bi tundiyê ser ketiye xurur dibînin û kêyf jê digirin. Hestên hêzbûna girêdayî desthilatî û tundiyê, li şûna ku divê weke nexweşiya civakî ya herî xeternak were nirxandin, weke hestê herî bilind û keyfê tê îlankirin. Diyardeya ku pêwîst e were lenetkirin, weke erdemek ku herî zêde hatiye berzkirin tê dest girtin.
Ev pênaseya ku ji bo giştî rast e, ji bona rastiya civakî ya Rojhilata Navîn, hîn rastire. Gotinên weke "lêdan ji buhiştê –gireva serdestan- derketiye", "tundî ji hingiv şerîntire" jêdera xwe rave dike. Di berovajî û bê hênase mayîna civakê de para tundiyê diyarkere. Tundî çalakiya berdûşên civakî yên dervî mirovahî, tehekumkar û mêtînkar in.
Dikare pênase hîn zêdetir jî were dewlemnedkirin. Aliyê vê yê ecêp, li hember nasnameyek ev qas bi taybetmendiyek xirab ve hatiye hunandin, dihesibîne ku wê civaka zilamê serdest bi hêsanî pê re bijî. Demek koleyek pir bêdeng tê dîtin. Zilamek bi onur bi diyadeyek ji bo mirov ev qas bi neyêniyan ve xwe birêxistin kiribe re jiyîn gelekî zor û astek ketîbûnê de ye. Her çendî ji bona Eflaton jin ji dewlet û civakê bi temamî derxistî tê rexnekirin, esaî di nêzîkbûna wî de ev taybetmendiya nxistinê heye. Divê ev xala ku bi gelek feylefofan re heye rast were xwendin. Mînak di Netzche de bi van taybetmendiyan re hevbeş jiyîn mîsoger mirovan xirab dike. Wê demê çima di civakê de ketîbûna beramberî jinê ew qas xurte? Ji ber ev civak hatine xistin ji bona wê. Zilam hatiye xistin ji bona wê. Ji ber taybetmendiya vê koletiyê ya guherbar heye ji bona wê ye. Koleyek ev qas sûdmend ji bona mirovên fêrî koletiyê kirine helbet wê lêgerîna hevbeş be. Lewma jina ku hatiye binxistin, civaka hatî xistin, zilamê hatiye xistine. Ji porek wisa re şehek wisa tê xwestin. Bi kin û kurtî ger diyerdeya jintî baş neyê ronîkirin, jintiya dayîk a civaka xwezayî bi jintiya zanist a azad a şaristaniya çînî neyê yek-kirin, nikare hevaltiya hevsengî ya jiyana hevbeş were avakirin. Hev şibandina vê zilamtî jî ji nû ve neyê avakirin  ev yekbûn pêk naye.
Şêwaza avakirin û rêveberina kapîtalîzmê ya di qada civakî de di gelek diyardeyan de bi taybet bi zilam re, di malbatê de, di karmendiyê de, dîsa di perwerde, tenduristî, huquq û gelek qadên weke van de dikare were dîtin. Ger em ji bona malbatê pênaseyek kin bikin, ev dergeha ku saziya hiyerarşîk û dewletpereswt a bingehîne, şaneya pergalê û monekûla wê ya herî biçûk e. Şêwaza împaratoriya li lutkeyên jorîn a di malbatê de diyar dibe, "împaratorê biçûk" e. Dezgeha ku esasî ya koletiya ku di civakê de diyar dibe ye. Koletiya malbatê, ewleya bingehîn a koletiya civakî ye. Pergala her roj û saet di malbatê de ji nû ve tê hilberandin. Barê wê ya herî giran jî malbat radike. Malbat kerê hiyerarşî û dewletperestiyê ya herî bêdeng e. Her tim dikarî lê suwar bibî û xwe lê bar bikî. Bi gelemperî dikare şopa ketina pergala kapîtalîst herî balkêş wêran dibe, rewşa xwe ya di nava malbatê de ji ber girêdana hişk a di navbera wan de ye.
Zêde pêwîst nake aboriya kapîtalîst were gotin. Kapîtalîzm bi xwe cewhera aboriyê ye. Di vê manê de pergala ku ji bo feydê ya herî îstîsmar, hovane û reqabetê her tiştî ber çav digirê ye. Ti diyardeya civakê ya ku ne hatiye metakirin ne maye. Civaka ku hatiye meta kirin, civaka ku dixwazin ji dest berdine. Civakek wisa ya ku temenê xwe yê jiyanê dagirtiye, lewma sazûmaniyek ku divê were xilaskirine.
Di civakê de çanda tundiya kûr bûye jî xwe bi şeran xwedî dike. Di navbera dewletan de şûr, di malbatê ede jî destê zilam nîşaneya serdestiyê ye. Hem civaka jêr û hem ya jorîn di nava lepên şûr û dest de maye. Her tim pesnên çanda tehekum tê dayîn. Kesayetên herî mezin bi xwînên bê maf rijandin re pesnê xwe didin, xurur dibînin û erdemek herî mezin dihesibînin. Bi taybet qralên Babîl û Asuriyan bi mînakên weke ji serê mirovan çêkirina harman, kelh û dîwaran ji şan û şerefa herî herî mezin dihesibînin. Ya ku îro hîna berfirehe çanda tundiya civakî û terora dewletê, çavkaniya xwe ji vê çandê digire.
Hîna dîroka jinê ya koletiyê ne hatiye nivîsandin. Dîroka azadiyê jî li benda nivisînê ye. Bi qasî kûraniya koletiya jinê, ew qas di tarîtiyê de hiştin, bi hiyerarşî û desthilatdariya dewletperest a di civakê de bilind bûye ve girêdayî ye. Piştî jin hînî koletiyê kirin, hiyerarşî – rêveberên pîroz ên cihe- hatin sazkirin û rêya koletiya derûdorên civakê yên din vebû. Kolebûna zilam piştî kolebûna jinê tê. Koletiya zayend ji koletiya çîn û netew cuda ye. Rewakirina wê bi zextên zirav û kûr ve û bi derewên hestan dagirtî ve pêk hatiye. Cudahiya wê ya biyolojî weke ku ji bona koletiya wê pêwîstiyeke hatiye bikaranîna. Tevahî karên ku kirine weke ti nirxa xwe tine ye, bi navê "karê jinê ne" sivik dîtine. Di nava qadên civakê yên raya kar de ji hêla olî ve qedexe û exlaqî ve jî şerm hatiye dîtin. Her ku çûye ji tevahî çalakiyên civakî yên girîng hatiye dûrxistin. Her ku hêza serwer a çalakiyên siyasî, civakî û aborî kete destê zilam, lewaziya jinê hîn zêdetir bi sazî dibe. Her wisa "cinsê lewaz" weke baweriyekê tê parvekirin.
Pirsa ku pêwîst e were kirin, pirsa çima ev qas koletî? Ye. Bersiva wê mîsoger bi desthilatî ve girêdayî ye. Xwezaya desthilatî koletiyê dixwaze. Ger pergala desthilatî di destê zilam de ye, ne tenê hinek cureyên mirov, divê cinsek bi temamî li gorî ev desthilatî şêwe bigire. Xwediyên desthilatî sînorên dewletan çawa weke sînorên haneyan dibînin, pêkana her sepanê di nava van sînoran de weke mafekê dibînin, modela wê ya mîkro ye di nava malbatê de jî zilam weke xwediyê desthilatî – pêwîst bibîne mirin jî di navê de- pêkanîna her tiştî mafê xwe dibîne. Jina malê ew qas milkê herî kevin û kûre ku, zilam bi hestên milkiyetek bê sînor dibêje "jin a min e." Jin nikare li ser zilam – ku di bin navê zewacê de pê ve girêdayî ye- xwedî ti mafî be. Lê mafê zilam a li ser jin û zarokan bê sînor e. Dîsa divê milkiyet di malbata ku çavkaniya wê ya herî bingehîne de, di bikaranîna koletiya li ser jinê de were gerîn. Ji ber di bin çavkaniya milkiyetê de jina hatiye kolekirin heye. Koletî û milkiyeta li ser jinê belav bûyî, pêl bi pêl di asta tevahî civakê de belav dibe. Bi vî rengî di nava binesaziya hişmendî û nêzîkbûnên civak û kesan de, hest û ramanên milkperest û koletî têne bicihkirin. Civak ji bona her cure binesaziyên hiyerarşîk û dewletperest guncav tê pêşxistin. Ev jî tê wê maneyê kui, her binesaziyên bi çînî yên ji wan re şaristanî tê gotin, bikaribin xwe bidestxistinek hêsan û rewa ve bidomînin. Bi vî rengî ya winda dike ne tenê jin e. Ji bilî komek hêzên hiyerarşîk û dewletperest, tevahî civak winda dike.
Serdestiya zilam a ku kevneşopiya hiyerarşîk li ser jinê daye meşandin, di tevahî şaristaniyê de her tim hatiye xurtkirin. Desthilatiya di hêmana dewlet-netewe de mezin bûye, vê hêza xwe di radeyek mezin de ji zayendperestiya belav kirî û kûr kirî digire. zayendperestî herî kêm bi qasî netewperestî, bîrdoziyek ku desthilatî û dewlet-netewe ava dikeye. Ne kargeriyek biyolojîk a asayî ye. Ji bo zilamê serdest zînsiyeta jinê, obje, nesneyek ku dikare her cure daxwazên xwe li ser pêk bînê ye. Weke di pirtûkên pîroz de hatiye gotin; "erdê we ye, çawa dixwazin dikarin bajo" re, gotina modernîte dibêje; "weke sazekê ye çawa bixwazin dikarin lê bidin" vê rastiyê rave dike. Weke din, gotina dibêje "ji pişta wê dar ji zikê wê cehşikan kêm neke" xisleta serdestî ya nijadî diyar dike. Zayendperestiya civakî herî kêm bi qasî kapîtalîzmê cinawirek civakî ya pir xeternake. Mixabin serdestiya zilamê yeman û fêlbaz, ji bo derketina heqîqeta vê diyardeyê asteng bike, di nava helwestek çavreşî de ye. Tevî ku bi qasî kapîtalîzmê lêkolînê dixwaze, ya herî di tarîtiyê de tê hiştin qada civakî ye. Tevahî bîrdoziyên desthilatî û dewletan jêdera xwe ya yekemîn ji helwest û nêzîkbûnên zayendperest digirin. Qada civakî ya ku her cure koletî, zext û mêtînkariyên pir kûr, nixumandî li ser hatiye meşandin, koletiya jinê ye. Nesneyek civakî ku her cure desthilatî û dewlet ji xwe çavkaniya ceribandinê dîtine.
Ger statûya bi pergala hiyerarşîk re destpê kiriye û jin di navê de tê girtin neyê dahûrandin, nikare ne dewlet ne jî binesaziyên civakên çînî werin ravekirin. Lewma nikarin xwe ji xapînokên herî esasî rizgar bikin. jin ne weke zayendekê, weke mirovekê ji civaka xwezyî hatiye qutkirin, mehkumî koletiya herî berfireh kirine. Tevahî koletiyên din bi girêdayî koletiya jinê pêş dikevin. Lewma heta koletiya jinê neyê dahûrandin, koletiyêmn din nayên dahûrandin. Heta koletiya jinê neyê derbaskirin, koletiyên din jî nayên derbaskirin. Jina zanist a civaka xwezayî pîroziyên dayîka-xwedawend bi hezarî sala jiyaye. Her tim nirxê hatiye bilindkirin dayîka xwedawend e. Wê demê çawa çêbû çanda civaka herî dem dirêj û berfireh hatiye fetisandin û ketiye rewşa bilbila di qefesê de hatiye xemilandin? Dibe ku zilam heyranê vê bilbilê bimînin, lê ew girtiyeke. Heta ev girtina kûr û herî dem dirêj neyê derbaskirin, ti pergala civakî nikare behsa wekhevî û azadiyê bike. Lewma rast e ku asta wekihevî û azadiya jinê, asta civakê diyar dike. Hîna dîrokek jinê ne hatiye nivîsandin. Jin bi tê şêwazî rast di nava zanista civakî de ne hatiye bicihkirin. Ê ku dibêje ez beramberî jinê rêzdar im jî, dema jin dibe amûrek azweriyên xwe vê ji xwe re weke hukmekê erê dike. Jin, ji bilî cinseltiya xwe di roja me de weke dostê mirov ji aliyê ti zilamî ve naye pejirandin. Dostanî di navbera zilaman de derbasdare. Ji bona jin dost gotin, roja duyem aloziya cînseltî bi xwe re tîne. Zilamek ku ev nêzîkbûn derbas kirine peyda kirin an jî avakirin, dikare weke gavên azadiyê ya herî bingehîn were nirxandin. Her ku em di dahûrandina vê mijarê de pêş de diçin, ezê hewl bidim ku hîn zêde kûr bibim.
Di vir de xala ku her tim hewl didim bidest bigirim gelemperî jî eleqeder dike. Xala ku zêdetir hewl didim ji bona Kurdan şênber bikim, teoriya evînek nû ye. Hûnê bêjin di vê kêliya ji bona Kurdan şer dikin de, ev evîn jî ji ku derê derket. Gelê Kurd nûnertiya gelk û jihezkirinê jî mehrûm hatiye hiştin dike. Hezkirin di asta herî jor de hatiye zuhakirin û qetilkirin. Hinek mirovên me yên xwe ronakbîr dibînin hene. Hûn dizanin ronakbîr bi huner, wêje ve mijûl dibin û qaşo hewl didin dilê mirovan şîrove bikin. Lê mixabin dema Kurd dibin mijara gotinê, qet nas ne kirine. Dilê Kurd lê ku derê ye, kengî xilas bûye? Dilê ku bi Kurdê niha re heye, dilê kî ye? Ev hest hestê kî ye? Ger hebe ev hest ê kîjan biyanî û xulamî ye? Kîjan bê wijdanî û kîjan bê çaretî ye? Divê ev tev werin vekirin.
Gotina ku Ehmedê Xanê beriya sê sed salî gotî, ji bona min hîna jî pir girîng e. Dema wî pirtûka xwe nivîsandî wisa got; "ji bo bêjin evîn, îrfan û zanista Kurdan jî heye ez vê pirtûkê dinivisînim." Ev gotinek pir girîng e. Bal bidin ser hîna wê demê, ji bona Kurdan behsa pêwîstiya evîn û îrfanê tê kirin. Niha tişta ku ji sê sed salan vir ve heyî jî winda bû. Vaye diyar e bi Mem û Zîn re jî evîn pêk ne hatiye. Li wir her du jî dimirin û şewitîne. Heta di nava rastiya civaka wê demê de bi qasî nekaribin biaxivin jar in. Niha pirsgirêkek me jî ya wisa heye.
Hûn dibêjin zewac û malbat, ez jî vê ji we re dibêjim; gelo jiyanek bê evîn an jî bê hezkirin dibe? Li gorî wê nebe an jî hatiye qetilkirin, emê vê çawa ava bikin? keç û xortên me çawa dihizirin. Ez ji vê xembarî dijîm, heta jê aciz dibim. Min i serî de malbata xwe rexne kir. Min li ser vî bingehî bi dayîk û bavê xwe re şer kir. Min got ev malbatek çawa ye. Lê min paşê dît ku, bi temamî çîroka civakê ye. Lê maqey em ji vê re serî bitewînin, dev ji jiyan, azwerî û evîna jiyanê berdin? Wê demê dê çawa be? Mirov li dîrokê dinêrejiyan bi temamî ji dest hatiye girtin, lê em dixwazin di roja me de jiyan bikin. ez kesayetek xwediyê azweriyên mezin û lêgerînvanê bedewiyan im. Lêgerînek min a bedewiyên mezin heye. Lê ezê çawa bidest bixim û çawa bijîm? Ez vê di maneya çors û madî de nabêjim. Ji ber ev bi serê xwe pirsgirêkek bîrdozî ye.
Pêwîst dibînim ku hinek tiştan ava bikim. Bi hezaran keçên ciwan derketine çiyan, a rast ew jî li evînê digerin. Lê nizanin dê çawa bigihijin wê. Ger me tevdîrên taybet ne girtiban dê zilamê fermandar ê kêleka wê disekine, ji eşkiyayê serê çiyan xirabtir jin biçewsanda. Ev, niha pirswgirêkek girîng e. Ji ber tê gotin; "emê biçin welat, derkevin çiyan, azad bijîn û şer bikin", lê yê rêhevalê rihê xwe dizane yek kes, bi qasî nirxa ji jina sûkê re dide, nirx nade jina gerîla. Ji ber zilam nezan, bê hest û tênagihijê ye. Ji ber ku tênagihije ji jinê re dibêje; " biçe bimire, tu belaya serê meyî, barê ser pişta me yî." Divê ev jî werin vegotin. Zîlanan wisa ji xweber derneketin holê. Di nava refên me de mîna vê şerên pir dijwar hene. Ez nabê jim avakirina zilam tiştek wisa hêsan e.
Me YAJK, ji bona jin di maneya çorsî de şer bike ava ne kir. Bila ev şaş neyê fêmkirin. Ne zilamê dervî me jî, me ji bona zilamê nava xwe bînin rê damezirand. Dema em dibêjin anîna rê, em behsa hinekê guhertin û veguhertinê dikin. Lê zilam bi qasî misqalekê jî naxwaze nêzîkbûnên xwe biguherîne. Min behsa hest û evînê kir. Nizane li hember jina herî azad biçekê rêzdar be. Ezê çi ji vî zilamî bikim? Hinekê wijdana min heye. Ez van zilaman hêjayî jinên me nabînim. Ji ber, bûye bela serê xwe û dixwaze weke mayînek aware di serê jinê de biteqe. Hêza wî têra dijmin nake, nikare planek çalakiyek cidî û rêxistinê pêş bixe. Her jina li kêleka xwe tewambar dike; dibêje " li pêşiya şer bûyî asteng". Nikare jiyanê dahûrîne, hestên wî zêde pêş ne ketine, yekser dema bi ajoyên xwe re derfetan dibîne, xwe dispêre erka xwe û dixwaze hêrsa xwe di serê jinê de derbixe. Ev pirsgirêkek cidî ye. Divê em vî zilamî veguherînin. Ji tevdîrên herî çors ya me girtî jî, i vê mijarê de birêxistinkirina YAJK'ê ye.
Min di dema dawî de ev ji jinan re got; ez jî di navê de, xwe li hember me baş birêxistin bikin. ji ber ez di rastiya me de zilam pir bi xeter dibînim. Hîna zilam ne hatiye pêşxistin û veguhertin. Ne di wê astê de ye ku wekhevî azad, rêzdar û hinekê jî bi hezkirî nêz bibe. Yanê min got ez çariyekê zilam im. Ez her tim vê dibêjim. Ez çi bikim dikarim ev qas xwe pêş bixim. Ez ji bo jinek ku pêwîst e wekhev û azad bijî, xwe zilamek di asta çarîkê de dibînim. Temenê min derbas dibe, ez çi bikim yek e wisa me. Hûn dibêjim serok, rêber, lê rastiya min ev e. Ez nikarim zêde cîhan, xeyal û hêviyên jinan bixemilînim. Tevî ji bo jinan ev qas şer dikim û hewldanên mezin didim, dikarim encax ev qasî bikim. Lewma min got li ser hestên xwe hukum bikin. ger gengaz be xwe birêxistin bikin û ji bo guhertina zilam, hêz tevlî hêza xwe bikin. nexwe zalim û bêçare nikare tiştekî bide we.
Dema YAJK hinek birêxistin dibe, zilam nikare weke berê êrîş bike. Bi sipartina hêza xwe nikare bêje "ezê bi vê hêza xwe ve nêzî keçan bibim". Me ev şikand, ev jî pêşketinek girîng e. Hûn dibêjin we malbat çawa dahûrand. Ev e me wisa dahûrand. Li gorî min divê êdî zilam li ber xwe bide. Li şûna jina erzan bibîne an jî li pey jina erzan baz bide, ew e li wê derê rastiya Zîlan heye. Zîlan jinek hêja, mezin serî rakiriye, çalakiya xwe ya mezin pêk aniye. Nivîsa xwe jî nivîsandiye, sonda xwe daye û pêk aniye. Ez her roj dibêjim, ezê beramberî vê hevala jin rêzdar bim. Dibe ku hûn vê jibîr dikin û jibîr jî bikin. lê wesiyeta wê li holê ye. Di vê manê de ez nikarim dev ji girêdana van wesiyetan berdim. Lewma ez dibêjim hûnê gorî vê bin û li gorî vê bûyîn jî karek pir zehmet e.
Nakokiyek derdikeve. Gelo wê Qutbûn, bibe ji nû ve tevlîbûn û ji nû ve parvekirin? Ger wê bibe, divê zilam xwe bi zane, azadîxwazî bi vîn û serkeftî ji nû ve biafirîne. Ez her tim vê mînakê didim. Ger we bala xwe dabe hêlîna çûkan, hûnê bibînin ku dema destê mirovekî li wê hêlînê bikeve, an jî li hêka di hêlînê de bikeve, ew çûk dev ji hêlîna xwe diberde. Cihek me, bostek axa me ya ne hatiye dagirkirin ne maye. Ger mejiyek bi qasî mejiyê çûkê hebe, bawerim wê were fêmkirin ku di vê hêlînê de malbatek wisa bi namûs naye sazkirin. Divê hûn vê bizanin. Ger em vê rastiyê bêjin, wê ew jî bêjin "wey ma em jiyan nekin". Belê emê jiyan bikin, lê divê em vê rastiyê jî bibînin û çareser bikin. ger em çareser nekin dê çi bibe? Ev e rastiya Kurd, nikare li ser axa xwe raweste, her kes digirî. Kurdistan bi temamî vala bû. Dikare bê gotin ku yek kesê ku bikraribe bêje "ez Kurd im, ez dixwazim azad bijîm, ez bi şeref im" ne maye. Ez ji were gerîla vedibêjim. Bi zorê dijîn. Wê demê em xwe bi xwe înkar nekin. Belê em azad bijîn, lê rastî jî beramberî me ne. Ger ji vê re hêza we ya çareseriyê tine be, hûn nikarin bi vê zanebûn û vîna xwe ve di mayîna welat û têkîliyê wekhev û azad de israr bikin.
Emê keçan çawa bidin jiyîn? Bi pereyan nabe, pere zordarî ye, mal û milk-kirine û ev jî bûyerek her tim dijî jinê tê bikaranîn. Gelo em qet jiyan nekin, ev e di vir de pêdiviyek pir mezin bi teoriya evînê ya pir zehmet û teoriya hezkirinê heye. Divê mirov di vir de dil pêş bixe. Ger gengaz be divê jinên me jî xwe binasin û bibin xwediyê nasname.
Zilam bermahiyê axa û begên pergalê ye. Di nava me de her zilam li gorî bîrdoziya feodal xwe dixe dewsa axa û began. Mafê her gotin û xeberan ji jinê re bêje bi xwe re dibîne. Ez nikarim vê bi tena serê xwe derbas bikim. Divê jin xwe birêxistin bikin. Madem hîn jiyanek girêdayî wekhevî û azadî dixwazin, wê demê divê hûn berdêla wê jî bidin. Divê yekser çûna mirinê û bi çeka di dest de xwe ne peyitîne (ispat). Ev nêzîkbûnek pir kêm e. Hûnê hestên xwe birêxistin bikin, hêza ramanê xwe yê azadiyê ava bikin. der barê bi zilamek çawa an jî bi zilam re cureyek jiyana çawa bijîn de, projeyên xwe ava bikin. Lê ger hûn bal bidin ser, civaka me ya serdestiya zilam, zimanê jinê jî jê kiriye. Dê û bavê te dibêjin; "me ji te re mêr dîtiye". Ev di burjuwayan de jî wisa ye. Lê bi wan re hinek din hatiye guhertin. Keç, li pere û mûçeya zilam dinê re, ger halê wî baş be, ji jineke gundî xirabtir diçe, baz dide çem wî. Di vir de bûyerek jiyana xwe dispêre projeya azadiya jinê tine ye. Li ser esasê roja jinê dikarim xalên herî balkêş wisa diyar bikim.
Dema tê gotin tevgera dilek mezin, divê mîsoger hûn vê fêm bikin. divê zilamên me hinekê vê fêm bikin . Yanê dema piçekê hêz an jî erk dikeve dest, di bin navê jin lewaz e de, divê hestên wê yên xweşik, fîzîkî wê xirab nekin. Divê hinekê mane bidin jinê, heta wê pêş bixin. Divê vê biçûk nebînin. Gotina; " sedî sed malê min e, ez bixwazim ezê lê bidim, xebaran jî bikim" ne rast e. Tişta ku herî baş tu bikî jina te jî be, a girîng tu wê pêş têxî ye. Ez her tim vê dibêjim; karê min ne pêşxistina pîrekan, pêşxistina jina azad e. Pêşxistina jina azad îbadete. Weke tê dîtin tevahî jinên me, jinên şerker ên herî dijwar in. Yanê di vê manê de nahêle destê zilam lê bikeve. Ango zilam zordar be, kirêt be û ji azadiyê re ne vekirî be, jin wî napejirînin. Rastiya exlaqa di PKK'ê ev e. E vji bo jiyana nû bi girêdayî wekhevî û azadiya were pejirîn dibe şêwaza têkîliya nû têgeha cîhanek nû. Di damezirandina civakek nû. Ev gelekî pêwîst e û projeya jiyanê jî ev e.
Dema ez derbasî pirsa dibêjim; "di vir de rola zilamê Kurd çi ye", min dît ku rewşa zilamê Kurd di rewşek pir şewat de ye. Di maneya klasîk de jî naşibe zilamên ti netewan, min dît ku gelek aliyên xwe yên cuda hene. Zilamê di bin bandora pergala çewsîner de,  êşa xwe tevê bi jin û zarokan dide jiyîn. Dîsa balkêşe, dixwaze çavkaniya hezkirina xwe tevê jî di vir de bibîne. Ango hem hez dike, hem lê dixe û hem jî rondikan dibarîne. Kesayetek pir bi nakokî ye. Dixwaze hez bike û dikuje. Yanê di şêwaza hezkirinê de kuştin heye. Ji bo zarokan jî ev wisa ye. Min ev zilam pir bê çare dît. Dema min ev bê çaretî dît ji bona min dahûrandina zilam bi qasî dahûrandina jinê girîng bû. Ya rastî pirsgirêk ji pirsgirêka jinê zêdetir weke pirsgirêka zilam çareser kirin, ji bona min xwediyê girîngiyek mezine. Ev di gelek bîrdoziyan de wisa ne hatine derxistin. Ji ber ku zêdehiya bîrdoziyan bi serdestiya zilam in, zêde pêwîstiya dahûrandina zilam nabînin. Ger kesayetek sosyalîst ê pir kûr nebe, zilam zêde rû nade fikrên ku desthilatdariya zilam bike xeteriyê. Naxwaze xwe bike mijarê rexneyan. Ev rewş di kesayeta zilam de nêzîkbûnek bi cewhera wî re bûye yek e.
Rewşa min hinekê cuda ye. Ji ber min di astek pêş de xwe ji zilamê klasîk qut kiriye, bi wêrekî zilam rexne dikim û çareser dikim. Bê guman ev xweseriyeke. Min jin jî ji aliyê klasîk ve ji zilam qut kiriye û di azadkirinê de rêyek dirêj ava kiriye. Lewma di vê mijarê de nêzîkbûn gelekî azad bûne. ez pirsgirêkê di çarçoveyek dînamîk de dest digirim. Di heman demê de hewl didim hinek têgînên nû pêş bixim. Têgînên weke ji kuştina zilam bigirin heta bi heman şêwazî ji nû ve avakirina jinê û kuştina pîrektiyê gelekî bala min dikişînin. Ne tenê di asta têgîn de, em di nava hewldanek weke avakirina artêşbûna jinê de ne. Ev pêşketinên gelek ji wan mat kirine û di heman demê de rê ji bertekên mezin re jî vekiriye. Bê guman ev berhemên têgehên gelekî kûr in. Cihên wan ên ji xweber hebin jî, ya esasî ji bona ez bikaribim bingehê şêwaza jiyanek nû ya bikaribe van rexneyan tevan pêşwazî bike, girêdayî wekhevî û azadiyê zemînek derketinek nû avakirin ji neçarî ye. Plan û bername her ku diçe li ser vî bingehî tê pêşxistin. Lewma dema ber bi civaka nû ve diçin, tişta ku pêwîst e her kes bizanibe, dixwazin li vir jî bi plansaziyek pêşketî jîndar bikin. Bi taybet qadroyên me neçarin ku vê bizanibin. Ev hem pir girîng e, hem jî ji bo karên ku em ne di dawiya şoreşê de bikin, di destpêka wê de çareswr bikine. Divê di vê mijarê de şaşiyek dîrokî neyê kirin, di vir de têgehek bandorker pêwîst e. Berê digotan; "pirsgirêka netewî, pirsgirêka jinê, piştî sosyalîzmê tê çareserkirin." Lê ne wisa ye. Ger ev pirsgirêk kêlî bi kêlî rojane neyên çareserkirin, ne şoreşa sosyalîst pêk tê, ne netew rizgar dibin, ne jî zayend rizgar dibin.
Tê gotin ku bê jinê naye jiyîn. Lê bi jina heyî re jî naye jiyîn. Bawerin têkîliyek jin û zilam a heta qirika xwe ketine nava koletiyê, têkîliya herî difetisînê ye. Ji aloziya dawî ya pergala kapîtalîst, hêza mezin a ji evîna rasteqînî tê hêvîkirin, li derûdora jinê avakirinê re derketinek nû çêkirin, karên mirovên leheng û eslî yên dil dane evînê û ketine rê ye.
Di bin îdeaya xwedabûnê de hêza tinekirina mirovahiyê heye. Yên ku bi şeran mezin tine dikin, dihesibînin ku mezin jî ava bikin. Ger bi awayek derûnî hebûna ezî neyê venêrîn, di nexweşiya xwe nepixandinek bê sînor de ye. Pergala şaristaniyê jî, civakek ku ev nexweşî ji xwe re di nav de rê dibîne dide. Dikare were gotin ti nirx û kesayetên civakî yên desthilatdarî xirab ne kiriye ne maye. Ev nirxandinek bi cewhera desthilatdariyê ve girêdayî ye. Ji ber şaristanî civakên desthilatdarî ne, pergalên ku herî zêde bi civakê re nakokî dijîne. Em ji bira bigirin heta hevjîn û dostan, ti nirxek ku ji bona desthilatdfarî ji çav neyê derxistin tine ye. Dema hêzên rêveberiya şaristaniyê bê lêkolîn, tê dîtin ku ti reşkujî û bêbextiyên ku nekirine ne mane. Navê sazûmankirina derewan jî dikin polîtîka.
Divê em bal bikişînin ser taybetmendiyek di civakên şaristaniyê de bi sazî bûye. Em dikarin ji vê rastiyê re bêjin baldariya civakê ya li hember desthilatdariyê jî. Heman weke li ser kevneşopiya jintiya jinê ji nû ve avakirinê, ger desthilatdarî jî civakê bi şêweya mîna jintiya jinê amade neke, wê ji hebûna xwe bawer nebe. Jintî weke koletiya herî kevin, bi tevahî nirxên jina-dayîk ve, ji hêla zilamê bi hêz û yên bin destê wan ve di encama têkoşînek dirêj û berfireh de hatiye têkbirin û bi serdest kirina civaka zayendperestî ve, xwe bi saz kiriye. Dibe ku ev çalakiya serdestiyê, beriya ku şaristanî tam pêş bikeve di nava civakê de cih dîtibe. Ev têkoşînek ew qas tund û dijware ku bi encamên xwe ve ji hişê mirovan jî derketiye. Naye bîra jinê bê ka çi, çawa û li ku derê winda kiriye. Jintiyek serî tewandî weke halê xwe yê xwezayî dihesibîne. Lewma ti koletî bi qasî koletiya jinê di cewher de ne hatiye rewakirin.
Du cure bandorên vê avabûnê yên şewat hene. Ya yekemîn; civak ji koletiyê re vekirin; a duyemîn, li ser bingeha jintiyê meşandina tevahî koletiya ne. Jintî tenê weke tê hizirîn ne objeyek zayendperestiyê ye. Taybetmendiyek biyolojîk rave nake. Jintî di cewhera xwe de taybetmendiyek civakî ye. Tevahî helwest û nêzîkbûnên weke koletî, serî tewandin, heqeret pejirandin, girîn, hînbûna derewan, bê îdîabûn, xwe parastin û hwd. ên di rewşa pêwîste ku exlaqê azadiyê red bike de ye, ji pîşeya jintî tê hesêbê. Ji vê hêlê ve ya hatiye xistin zemînê civakî ye. Zemînê koletiyê yê eslî ye. Zemînê sazîbûna ku li ser koletiya her cure, herî kevin û tevahî bê exlaqiyan kargeriya ye. Di vê rastiyê de civaka kapîtalîst vî zemînî di nava tevahî hawirdorên civakê de diyarkirinê ve eleqedere. Bi temamî jinkirina civakê ji bo domandina pergalê pêwîst e. Desthilatî bi zilam re yek e. Wê demê tê wê maneyê ku jinbûna civakê devjê nayê berdan. Ji ber desthilatî rêgeza azadî û wekheviyê nas nake. Nexwe nikare hebe. Şibandina di navbera desthilatî û civaka zayendperest di cewher de ye. Desthilatî û cinseltî di civaka kapîtalîst de, nexweşiyek civakî ye. Heman weke kanserê ye. Weke ku bê hev nakin, hev û du zêde dikin. Heman weke zêdebûna şaneyên kanserê. Dixwazim werim vê mijarê: di civakên pêşketina kapîtalîst de zemînê desthilatdarî bi hezarê sala ne ji dil û weke jintî hatiye amadekirin. Gumana kevneşopiya şaristaniyê, jin weke bûye "erdê zilam" e. Di civakê de jî heman kevneşop derbasdare. Ji ber divê zilam xwe weke jinekê bide desthilatdarî. Yê îsyan bike, xwe dayînê red bike, neçarî xwe amadekirina şer re dike.
Pêvajoya desthilatî weke çalakiyek kes, kom, çîn an jî netewek ku ji nişkê ve ava bûye dîtin xwe xapandinek mezin e. Dibe ku hukumet ji nişkê ve werin damezirandin. Lê desthilatî û pergalên siyasî, ji aliyê civakên pêşketî yên bi sedan împaratorên hov, komên serdest, her cure hêzên serdest ve destpêkê weke çanda desthilatî (ango erd û kevneşopî) hatiye amadekirin. Civak çawa ku jin weke çarenûsa xwe li benda zilam be û ew pejirandibe, wisa jî weke erd û girêdayî desthilatiyê li bendê ye ji aliyê xwediyê xwe ve were bikaranîn û wisa hatiye hînkirin. Desthilatî, di civakê de weke çanda serdestiyê heye. Di vê manê de gotina Bakunîn a dibêje; " zilamê herî demokrat, bîst û çar seatên xwe yên desthilatdarî de xirab dibe" gelekî manîdare. Ev xirabûna min nekarî vebêjin, lê demek dirêje hewl didim vebêjim çi pêk tîne, zemînê desthilatî bi xwe ye. Kursiyê desthilatiya bi hezarî salan ji derya xwînê û îstîsmarê  (ango şer û mêtîngeriyên bê sînor) ava bûye, helbet wê yê ji nişkê ve li ser vî kursî rûniştî di bîst û çar seatenda xirab bike. Tenê bi şertekî dikare xirab neke; ger bikaribe weke ku xayîntî dike xwe biparêze!
Di azadiya jinê de , an jî di xwe azadkirinê de kesên ku rê ne girtibin, divê têbigihijin ku nikarin di ti qadên azadiya civakî û siyasî de dahûrîner û veguherîner bin. Ên nekarin dualîteya zilamê serdest û jina kole derbas bike, ti hewldanên wan ên azadiyê nikarin nasnameya azadiyê ya rasteqînî pêk bîne. Divê ev jî weke rêgeza azadî ya herî bingehîn were famkirin. Ger têkîliya milkiyet û desthilatdariya li ser jinê neyê rûxandin, ne gengaz e ku têkîliya jin û zilamê azad pêk were.
Piştî ku tevahî derfetên hêzên madî û giyanwerî di destê zilam de kom bûn, êdî jinê destê zilam nêrî, carina tika jê dikir, carinan jî tevahî şerefa xwe dikir bin piyan, çarenûsa xwe erê dikir û gelek caran jî ji jiyanê dixeyîdî diket rewşa hebûnek bêdengiyek kûr de. Di maneyê de jî weke miriyek dijî vegotin zêdetir di cih de ye. Em dikarin bi çend şibandinan vê diyardeyê hîn baştir zelal bikin. Şibandina yekemîn çûka di qefesê de ye. Çûk carinan weke qanarya tê xemilandin. Carinan jî weke bilbil deng xweş dibe. Her kes li gorî xwe dişibîne çûkekê. Gelek caran jî çûka biçûk tê gotin. Şibandina din jî, weke pişîkek berdabin binê bîrekê her tim bidin qîrkirine. Dikare bi xwarinên bermayî re were xwedîkirin û ji bo xwediyê wê were kedîkirin. Dibe ku hinekê çors were dîtin, lê ji bo fêmkirina kûraniya koletî, divê hewldanên gelek aliyên weke zanistî û wêjeyî werin pêşxistin. Civakek bê hempa ya zayendperestî hatiye avakirin. Çorsiya rasteqînî di vir de ye ku, dema destdirêjiya zilam beramberî jinê bê dilê jinê dike weke lehengî tê dîtin, zilam heta radeya dawî ji xwe re keyf û xururek mezin dibîne û jin bi keviran tê kuştin, davêjin malên giştî, ji bo carek din dernekeve nav civakê bi rûreşiyek qirêj ve rû bi rû dimîne. Dîsa bi çorsiyek mezin ve, dema zilam ji hêmana xwe ya zilamtî xurur digire, ji bo jinê hêmanên cinseltî dibe çavkaniya şermê. Cewaziya wan a herî ji rêzê jî, beramberî jinê bikar tînin. Bûna jin bi xwe bûye mijara şermê. Dilxwe de di evîna ku bûye hestek pîroz bi xwe de, tişta ku jin dijî ferzkirinek çavreşiya zilam e. Zarokên keç her tim hov hatine dîtin.
Di cîhana roja me de mijara ku herî zêde bûye benîştê devan evîn, heyama xwe ya herî rezîlane û bê naverok a dîrokê dijî. Ti dema dîrokê de evîn ev qas ne ketiye bin piyan. Em ji evînên ser kêliyan bigirin heta, nêzîkbûnên kujerên vekirî ji têkîliyên herî xeternak re jî evîn tê gotin. Ti têkîliyek bikaribe ji vê baştir têgeha jiyana pergala kapîtalîst bide raberkirin naye hizirîn. Evînên heyama me, hişmendiya ku pergala serwer li ser mirov û civakê ferz dike, di qadên herî pîroz de jî dikeve çi halan li xwe mikur tê. Evîn zindî kirin, ji erkên şoreşgerî yên herî zehmet e. Kedek mezin, ronakbîriya hişmendî û hezkirina mirovahî dixwaze. Ji şertên evînê yên herî girîng yek jê jî, di nava sînorên zanistiya serdemê de gerînê dixwaze. Ya duyemîn, li hember harbûnên pergalê seknek mezin ferz dike. Ya sêyemîn, pêwîst e bizanibin wê bê rizgarî û bê azadî nikaribin li rûyê hev binêrin, weke helwesteke exlaqî bipejirînin. A çaremîn, pêwîst e ajoyên hundirîn weke bikaribe bike girtiyên her sê xalan bipejirîne. Ango ger ajoya cinseltî bi rastiya zanyarî, exlaqê azadî û têkoşîna polîtîk û leşkerî ve neyê girêdan, divê bizanibe ku wê her gava were avêtin înkara evînê be. Yên ku bi qasî çûkekê jî derfetên xwe yên avakirina hêlînek azad tine be, nikarin behsa evîn, têkîlî û xewacê bikin. Ger bikin jî ev dide nîşan ku radestî koletiya pergala civakê bûye û tiştekî ji nirxên pîroz ên têkoşîna azadiyê fam nakin.
Ger wê behsa rastiya evîna serdema me were kirin, bawer im dê ev Leyla û Mecnûnan gelekî paş de bihêle , gelek ehlên tasaffuva derbas bike, pêwîstiya pakbûna mirovên zanistî dixwaze, ji aloziya rojane rêya ber bi azadiya civakî vedike , egîdî, cangorî û serkeftin bidestxistinê re, kesayetên xwe di vê destxistinê de peyîtandin ve gengaz e.